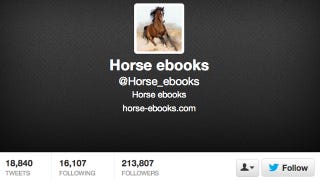 Normally, we worry that Twitter accounts and dating profiles are run by bots — sophisticated algorithms that pretend to be humans. But now, thanks to the Horse_ebooks Twitter account, we have to be on the lookout for humans luring us in by pretending to be machines.
So the cat's out of the bag. As reported by The New Yorker, the infamous and wildly popular Horse-ebooks twitter account is not a charming spambot after all — it's the work of two real human beings just pretending to be a machine. And it was all done as "a conceptual but performative" art piece.
Horse_ebooks was created by Jacob Bakkila and Thomas Bender, both employees of buzzfeed. They kept their secret identity to themselves for years, but they've finally come out.
Now, as some of you may remember, Gawker's Adrian Chen investigated this story in February of 2012, revealing that a human being — Russian Alexey Kouznetsov — was behind the twitter account. Bakilla has admitted that he came across the account in 2011 and reached out to Kouznetsov to inquire about taking it over. He agreed and Bakilla has been running Horse_ebooks since September 2011 — about six months before Chen's investigation. So he was close, but not close enough. Chen has been discussing the turn of events over at his Twitter account: