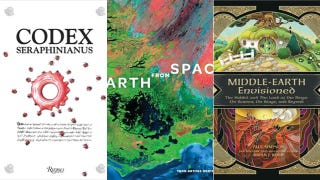 There's nothing better than a gorgeous coffee table book or special edition to leaf through during the holidays. We've got recommendations of gift books for people who are fans of scientific discovery — and science fictional exploration.
Science and History
Southern Light: Images from Antarctica
Luminous photography from the world's least-explored continent.
Out of the Wild: Zoo Portraits
Incredible, regal portraits for animal lovers.
This is an incredible collection of satellite photography of the Earth, revealing gorgeous patterns and incredible landscapes.
All Yesterdays: Unique and Speculative Views of Dinosaurs and Other Prehistoric Animals
We love this art book, which uses the latest scientific discoveries to speculate about how dinosaurs might have looked and behaved. Prepare to have all your preconceptions about these animals turned upsidown — in a wonderful way.