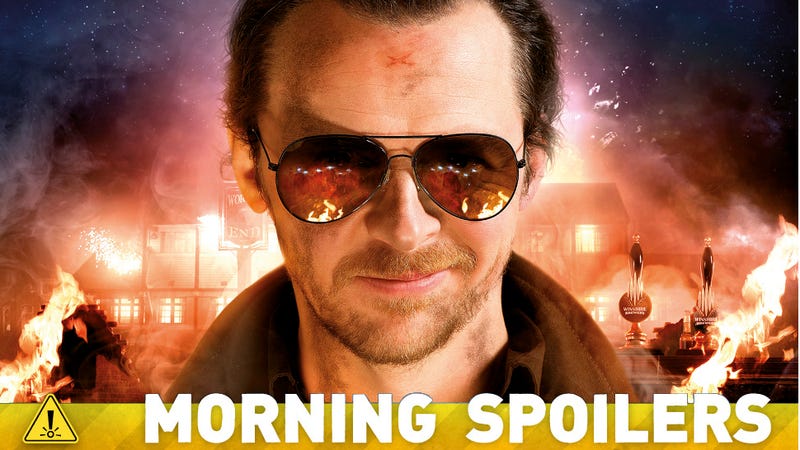 The Crow comic creator joins the movie remake. The Giver gets a lead. Shredder gets a new backstory in the TMNT movie. Go behind the scenes at The World's End. Get a sneak peek at The Maze Runner and The Mortal Instruments: City of Bones. Plus find out what's ahead in Teen Wolf, Arrow and the season finale of Defiance.
Spoilers below...
Top image: The World's End.
Lucy
Luc Besson is making the biggest-budget movie to ever come out of French production EuropaCorp. CEO Christophe Lambert says the movie will have, "the highest budget in the history of EuropaCorp… Luc Besson has never put so many special effects in a movie."
The film features Scarlett Johansson as a drug mule who gains superpowers when her cargo seeps into her bloodstream. Morgan Freeman plays a neurologist who can help her survive.
---
The Crow
Comic creator James O'Barr has been hired as a creative consultant for The Crow remake. He will be appearing at Comic-Con with Relativity Media. O'Barr says:
It is important for 'Crow' fans to understand that Relativity, Javier, Luke and the entire team are working on a new adaptation of the book itself. I believe that this movie will stand alongside Brandon [Lee] and his film as a valid work of art, and I look forward to collaborating on the project.
[Variety]
---
The Giver
The movie adaptation of the Newbery Medal-winning book is picking up steam. Brenton Thwaites has been cast as the lead character Jonas, a boy assigned to become the town's next Giver. The Giver is responsible for remembering the community's past. And the character is being majorly aged up. In the book, Jonas is 12 and Thwaites is 24. [/Film]
---
The Maze Runner
Click here for five stills from The Maze Runner. The movie is based on the dystopian YA book of the same title, about a boy who wakes up with no memory in an ever-changing labyrinth. He and the other trapped boys work to find a way to survive and escape. The movie stars Dylan O'Brien (Teen Wolf). [MTV News]