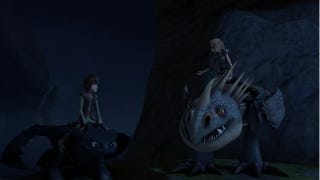 This week in the world of cartoons, the How to Train Your Dragon spin-off Defenders of Berk returned, and the Agents of S.M.A.S.H. learn Sunday that miniature golf is not a very safe hobby.
As always - minor spoilers ahead!
---
Adventure Time - "The Vault"

Where do you put away your deepest thoughts? Maybe it's the same place Finn keeps his: The Vault. Enjoy this week's journey into the mind of Finn.
---
Regular Show - "Every Meat Burrito"

Mordecai, Rigs, and friends want to dine on burritos containing every type of meat imaginable, but they need to trade their golf cart for a proper car first. This episode is a suitable companion to last week's episode of Adventure Time.