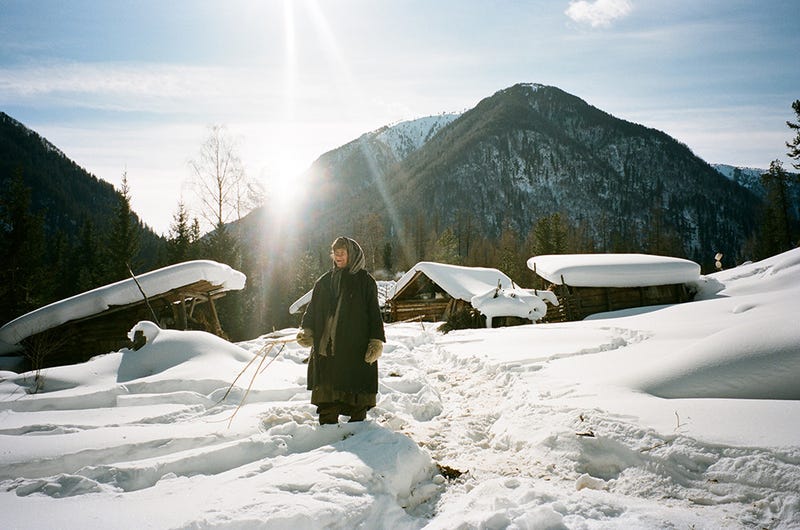 Some of us dream of living off the grid, trading modern civilization for the physical hardships and isolation of pre-modern living. Here are a handful of people who, by design and by circumstance, found themselves living in seclusion for years or even decades.
The Lykov family, spending 42 years (1936-1978) in isolation in an uninhabited part of Khakassia, Southern Siberia.
The parents after the rediscovery
They were rediscovered by a helicopter pilot, but the family didn't wanted to leave their isolated home. The religion of the family was under threat—they were Old Believers who protested against the reforms of the Russian Orthodox Church by Patriarch Nikon between 1652 and 1666. The Old Believers continued some liturgical practices that the reformed church did not.
The house now
Karp and Akulina Lykov left civilization with their two children in 1936 and ended up near Yerinat river, more than 160 miles (250 km) from any settled place. Two more children were born in 1940 and 1943. Akulina died of hunger in 1961, and three of their children perished in 1981. Karp himself died in 1988, but his youngest daughter Agafia still lives in the house.
Agafia
And here's a 35-minute documentary about the last surviving Lykov by VICE Magazine:
(via Yanus, Smithsonian and VICE)
Lt. Hiroo Onoda, a Japanese soldier, sent with some other units to the underpopulated Philippine island of Lubang in 1944. One year later, the Japanese Army sent thir flyers to tell the soldiers that the war was over. Onoda believed that those papers were dropped by Allied planes and lived in the jungle in the next 29 years.
When a backpacker named Norio Suzuki found him in 1974, Onoda refused to believe him that the WWII has ended in 1945. Suzuki returned to the island with the soldier's ex-commander to tell him the truth. He wasn't the only Japanese soldier who had continued fighting after WWII and was found almost three decades later: Shōichi Yokoi was discovered in the jungles of Guam in January 1972 and Teruo Nakamura fought until November 1974 in Indonesia.
Teruo Nakamura (left) and Shōichi Yokoi (right)
Yokoi arrived on Guam in February 1943 with the 38th Regiment and, when the American forces captured the island one year later, he went into hiding with ten other soldiers. Seven of them moved away, but Yokoi and two others did not. They visited each other until the mid-1960s, when the other two died in a flood.
Nakamura was stationed on Morotai Island in Indonesia but after the capture of the island by the Allies, he lived there with other stragglers and continued to fight the enemy forces, and later the local police. In 1956, he left the others and decided to build a small camp with a hut and a fenced field, and fought for eighteen more years.
(via AP, Kompasiana and The Standoff Journal)
Ng Chhaidy, a four-year-old girl who went missing in the jungle and returned 38 years later in 2012 in Myanmar
Chhaidy disappeared in a nearby forest with her cousin, Beirakhu, but the latter girl was found five days later. In the following years, there were some stories about a long-haired girl with long fingernails seen in the jungle, but nobody could catch her. You can read about the whole story on Open.
(via Open and Dei Gratias)
The now 47-year-old Christopher Knight, known as the North Pond Hermit, lived for 27 years in the Maine woods.
The North Pond Hermit was a legend for decades, but the public learned the reality in April 2013, when a man caught him stealing food from a camp. Knight may have been responsible for more than a thousand thefts of food, drink, kitchen gear, and other items.
(Photo by Kennebec County Sheriff's Office and Maine Department of Public Safety, via AP)
Emma Orbach, the Hobbit of Wales
The 58-year-old Oxford graduate lives in her self-built mud and straw roundhouse named Tir Ysbrydol (Spirit Land) without electricity, running water, or other advanced technologies. Her drinking water comes from a nearby watercourse, firewood is from the forest, fruits from her trees, and food from her seven chickens and three goats.
Here you can find more modern day hermits.