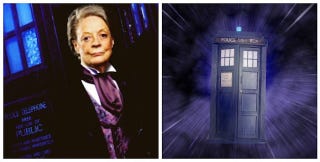 This picture of Maggie Smith as The Doctor is amazing. And just one of some insanely great casting suggestions.
Top image: Maggie Smith as the Doctor via commenter ponyprincess, moving Tardis from aussiegall
In response to this post looking at, and then dismantling, the objections to casting a woman as The Doctor, we started to put together a working casting list of women we'd love to see in the role. As commenter Craig Michael Ranapia noted "The perfect person to play The Doctor is the one who walks into the audition room and when they're done you just couldn't imagine anyone else in the role."