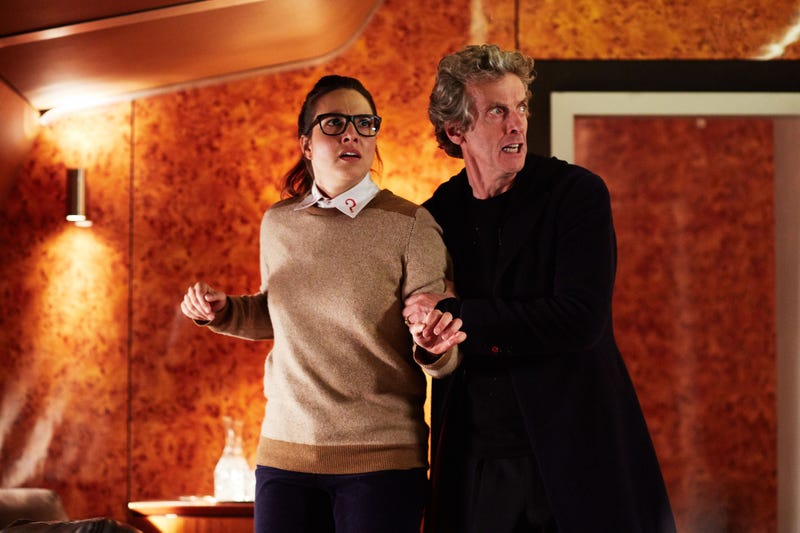 There are basically two major types of Doctor Who stories: 1) The Doctor protects the status quo from some outside disruption. 2) The Doctor finds a terrible status quo, and overturns it. But then there are outliers, where the "status quo" is in itself a lot more complicated.
Way back when io9 launched in early 2008, we charted the percentage of "Doctor upsets the status quo" stories, year by year. Among other things, we found that Colin Baker and Sylvester McCoy were the Doctors most likely to overthrow regimes, and—not surprisingly—the more time the Doctor spent on present-day Earth, the more concerned he was with preserving the existing order.
But tonight's episode, "The Zygon Invasion," is something a bit different. It's a story in which the "status quo" is really, really weird—even though it ostensibly takes place in present-day Earth. And it's hard to tell what exactly would constitute a happy resolution of this situation.
In fact, the situation in "Zygon Invasion" is starting to look like a no-win situation, and it's basically of the Doctor's making.
Back in "The Day of the Doctor," the anniversary special, the Doctor handled an impending Zygon invasion of Earth in the middle of dealing with his long-buried trauma from another no-win situation: the Time War. The Doctor was reunited with two of his past selves, including the past Doctor who actually set off the weapon that destroyed the Time Lords and the Daleks. Handling the Zygon problem was just sort of a distraction in the middle of undoing the Doctor's biggest mistake, but the solution that the Doctors came up with was very much a tribute to lateral thinking.
The Doctors forced the humans, and the Zygons impersonating them, to negotiate without knowing if they were Zygon or human. (At the time, we referred to this as a sort of Rawlsian "veil of ignorance.") The point was that there's always another way—hence the Doctor didn't have to accept the necessity of committing genocide against his own people as well as the Daleks.