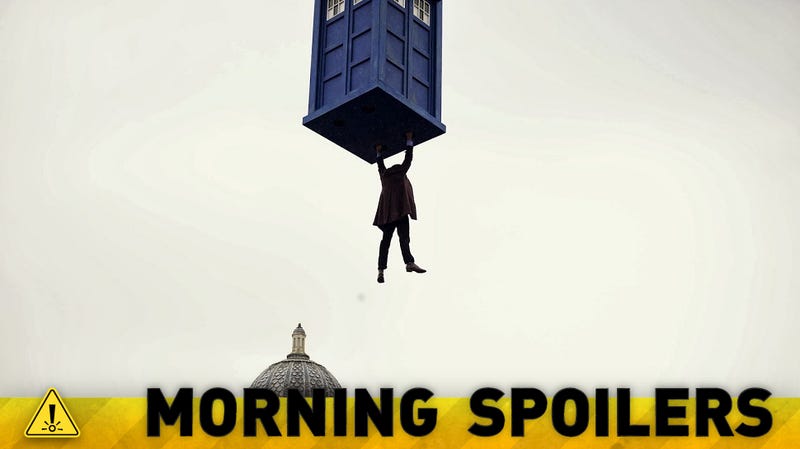 Could Stephen King's The Stand become a movie at last? Stan Lee's working on a movie for Sony, details have emerged about the in-development Agent Carter series, and someone we know well is getting shot by Oliver on Arrow. Plus, there's a rumor CBS is working on two Star Trek series — but what are they about? Spoilers ahead!
Top image: Doctor Who.
Jurassic World
Director Colin Trevorrow answered questions about this latest Jurassic Park movie, saying that it will take place 22 years after the first movie, just like the it'll be released 22 years after the original. He also stated that the goal was to stay true to the roots of the first Jurassic Park, promising "a new, sci-fi terror adventure" for this one. [Yahoo!]
---
The Stand
Warner Bros. is still trying to make a movie out of Stephen King's The Stand, with the most recent rumors being that the studio is looking for director Paul Greengrass to take over. This is striking some people as a little odd, since rumor also had it that Warner Bros. was hoping for this movie about the destruction of humanity following a viral outbreak to be PG-13, rather than a truer adaptation that would probably get an R. Greengrass seems an unlikely candidate to make the PG-13 version of this story. [Badass Digest via Slashfilm]
---
The Amazing Spider-Man 2
Here's a new video of Stan Lee promoting the sequel. [via Sci Fi Now]
---
Untitled Stan Lee Project
Speaking of Lee, he and Avi Arad (producer of Amazing Spider-Man) are developing a secret project at Sony. It's a movie, but nothing else is known about it, since Arad says:
Some titles give away too much.
There's nothing that indicates whether it's a comic book/superhero story, but Arad's comment does seem to indicate that it'll be something instantly recognizable. [Slashfilm]
---
Doctor Who
The Sun claims to have a bunch of inside information about the Christmas special. The plot will supposedly show the Doctor fighting a 300 year war against the Weeping Angels, Daleks, Sontarans, and Cybermen. The Doctor will grow old and lose a leg to the Weeping Angels, before finally regenerating. Clara will spend most of the episode trapped inside the TARDIS so that she doesn't age, and she'll only leave the TARDIS when the Doctor needs her. Of course, it's The Sun — so be very, very skeptical. [MTV]
In other Doctor Who news, Steven Moffat's dismissed the idea that there could be a prequel miniseries with Paul McGann's Eighth Doctor, saying:
This [50th anniversary] is a party time, so we're doing things differently.

One Doctor at a time is the real rule – 'Who would be on the lunchbox?' is always my question when we talk about having more than one Doctor.

. . . Quite soon, it's going to go back to… 'There is one Doctor and that's who he is' – he's one man with many faces, he's not a committee of people with unusual hair.
---
Star Trek
Take this anonymously sourced rumor with a giant, massive grain of salt: CBS is said to be developing two Star Trek shows, which are essentially CSI: Star Trek and ER: Star Trek. The first purportedly follows the Star Fleet Investigative Section – SFIS, and the fact that Starfleet has been broken up into two words does not bode well for the truthfulness of this report – as a procedural where the crew of the USS Edmund Locard investigate various space crimes of the week. The second would follow the USS Pierce, a heavy rescue ship, as it deals with medical emergencies. Oh, and ships at this time will be carrying wormhole generators, allowing the Pierce to get to them quickly when they need help. Yeah. [Call the Cops]
---
Agent Carter Series
It's been reported that Marvel's developing a TV series based on Agent Peggy Carter from Captain America. Now Neal McDonough, who played Dum Dum Dugan in that movie, has revealed that he just might be involved with it, if it happens, saying: