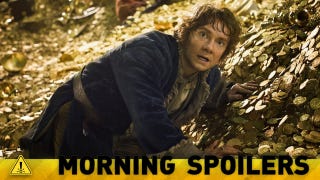 Peter Jackson gives details about the filming of The Hobbit's barrel scene. Will James McAvoy be in X-Men: Apocalypse? Samuel L. Jackson may be joining Tarzan. Plus, find out more about the 12 Monkeys TV show, and Lafayette's new boyfriend on True Blood. Spoilers now!
The Hunger Games: Mockingjay
Here's the first of the Robert Knepper-related news for today: the Prison Break star is set to play the character of Antonius in the final two Hunger Games movies. What's that? There's no such character in the books? That is true, Knepper appears to be playing a character created just for the movies. Antonius is apparently a minister to President Snow, and, given that the movies have taken to showing incidents in the Capitol that Katniss isn't aware of, this new character follows that tradition. [Slashfilm]
---
The Hobbit: The Desolation of Smaug
Peter Jackson explained how they filmed the famous barrel scene and that they actually lost three barrels doing it:
We had these big V8 water-jet things that we built on a circle – it was like a theme park – about as big as this room. And we were worried because we thought, how fast can we actually grind, wind the engine up, because we could sort of wind it up at speed and, you know, we'd better be careful, you know, because we don't know quite, it's gonna be unpredictable and it was. And we had stunt guys doing it, round and round, and testing it and everything else, but you know, these are actors, they're a little bit fragile (laughter). But by the end of the first day, the guys were just yelling, "Faster! Faster! Get it faster, faster, faster!" And we had it on max, we had the thing going on maximum pretty quickly.

But one of the things that doesn't really get referenced in the barrels is we also did another shoot on a different river in New Zealand, called the Awatere River in the North Island. And that was a shoot where – that's a particular river, it's like a gorge or a canyon, a rocky canyon that stretches about a mile and right at the head of the canyon is a big dam, and four times a day they open up the sluice gates and they just let this enormous torrent of water out, and they let it out for 10 minutes and then they close the gates again. And so we got a lot of the really kind of hair-raising barrel stuff in the Awatere. It would be too dangerous to put a stunt guy down. I mean, we didn't even dare put anyone in the barrels. We sent the barrels down completely empty and we put the digital Dwarves in later. But that got some of the more dramatic footage, was this – and it was just, it was great because we could set up the cameras when it was dry in between the dumps and we set up about six cameras right the way down the length of the gorge, and then we were there for about three days and every single, you know, four times a day on the dot, these things would open for 10 minutes. And we had a team up, throwing the barrels in, at the top. And we had another guys – you didn't know what the hell was gonna happen to them, you had just to – they just were filmed on the way down and we had a team at the bottom recovering the barrels. We lost three of them. I mean, to this day, we don't know where three of those barrels have gone.
More at the link. [Comic Book Resources]
In an interview, Luke Evans discussed his character, Bard the Bowman, and how his role's been expanded for the films:
But they added lots of new story; parts of Bard's storyline have been now fleshed out. And we now get to understand a little more about his background, and his family life, and where he lives, and the problems he deals with on a daily basis. And also, you see his animosity towards the dwarfs when he finds out exactly why they are in Lake-town is that they want to take back Erebor, their mountain, which has got a dragon sleeping in it.

I thought it was very nice and clever how they made Bard's storyline a little bit more active. He's a bit more vocal than he is in the book, just so that you get to know him a little bit more before he does that amazing thing in the third movie, which we don't obviously want to spoil. But it's a big deal.

. . . He's way more than just a Bowman. He's a family man and he lives in this incredibly sort of controlled, corrupt state, which is Lake-town. And he's sort of the people's hero in a way. They see him as one of their own. So when he speaks they sort of listen. And he has probably more respect than the master of Lake-town, which is why the master of Lake-town does what he does in the second movie and gets him put in prison because he seems like a troublemaker and he's stirring up the mutiny.
More at the link. [First Showing]
---
X-Men: Days of Future Past
While James McAvoy isn't confirming that he'll be in the just-announced X-Men: Apocalypse, he did point out that he's under contract for another X-Men film. He also talked about the many different Xaviers at play in these films:
The personal pleasure for me in 'First Class' was presenting a Charles Xavier to the fans, but also a new audience, who's very different from the Charles that you expected. But he was still very sort of 'Everything's going good!' In the second movie I get to present another version of Charles Xavier who's still very different from the Charles that used to exist, but he's also remarkably different from the Charles in 'First Class' as well. So what's great is that even though it's a sequel, even though it's a franchise, I keep getting to reinvent Charles Xavier and that's amazing. I've got to do it twice now, because the Charles in this film is unrecognizable from the Charles in the last film as well unrecognizable from the Charles played by Patrick Stewart, who I then get to face up to. That's sort of theatrical almost, it's like we're playing a game with the audience saying 'Look at the many faces of Charles-Patrick-Stewart-Xavier-McAvoy. It's really good fun.
---
Tarzan
Samuel L. Jackson is reportedly in talks to appear in David Yates' re-imagining of Tarzan. If all goes well, he'll join Alexander Skarsgard and Christoph Waltz in the cast. [Coming Soon]
---
Dawn of the Planet of the Apes
Here's the poster, which seems to be based on the images of the ape army from the official website.