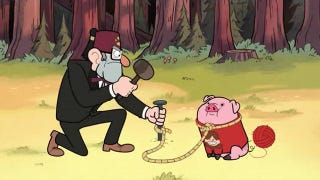 This week in the world of cartoons, Gravity Falls graces us with a new episode, Starscream makes a fool of himself on Transformers: Prime, and we add Futurama and Venture Bros. to the SMC line-up.
TMNT is off in North America, but a new episode, "Parasitica", aired early this week in UK. Ultimate Spider-Man appears to be unexpectedly off this week, but that is subject to change. As always - minor spoilers ahead!
---
Gravity Falls – "Land Before Swine"
Mable takes in a stray pig, treating it like a small infant. Meanwhile, Dipper is in search of an unknown beast roaming Gravity Falls, only for a pterodactyl to kidnap Mabel's precious pig.
---
Adventure Time – "Candy Streets"
While Jake & Finn use cats dressed in business suits as fighting toys, Lumpy Space Princess busts in to announce a crime. Finn & Jake head off to solve the mystery in a CSI-style episode.
---
Regular Show – "The Last LaserDisc Player"
Stuck with cleaning out a storage room, the guys come across a LaserDisc featuring the Director's Cut of one of their favorite movies. Where the heck are they going to find a LaserDisc player? And, in their hunt, can the boys avoid VHS peddlers?
---
Venture Bros. – "O.S.I. Love You"
Here's a quick preview of this Sunday night's episode! For a full review of last week's episode, "Spanakopita!", and every upcoming episode, check out Rob's Monday Venture Bros. round-up here.