Looking at the Earth from orbit is fascinating, especially at night. That's when you can measure the ways that human civilization covers the planet, and discover how national boundaries affect the electrical grid.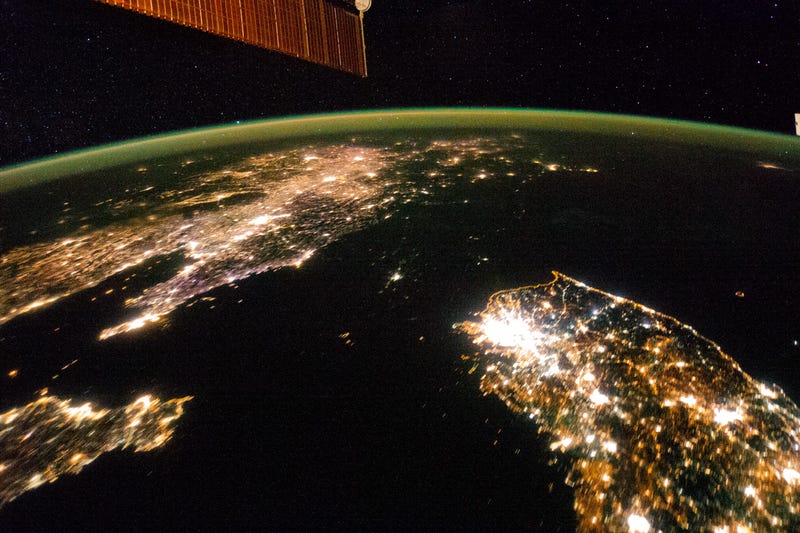 The only visible place is Pyongyang, the capital city. Its light emission is equivalent to the smaller town in South Korea.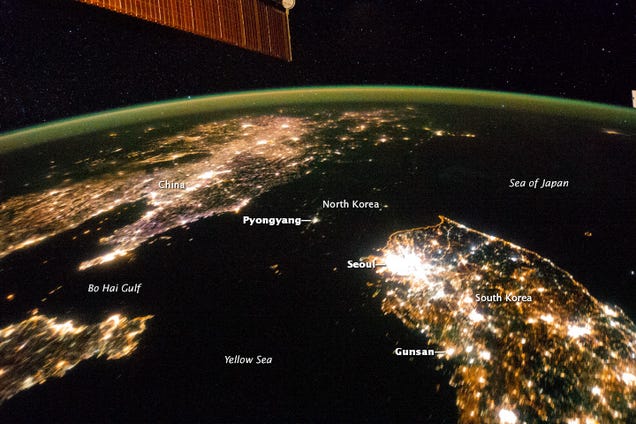 According to NASA Earth Observatory:
Coastlines are often very apparent in night imagery, as shown by South Korea's eastern shoreline. But the coast of North Korea is difficult to detect. These differences are illustrated in per capita power consumption in the two countries, with South Korea at 10,162 kilowatt hours and North Korea at 739 kilowatt hours.
(via NASA)
City lights along the French-Italy border, photographed by a crew member of Expedition 23 on the International Space Station, on April 28, 2010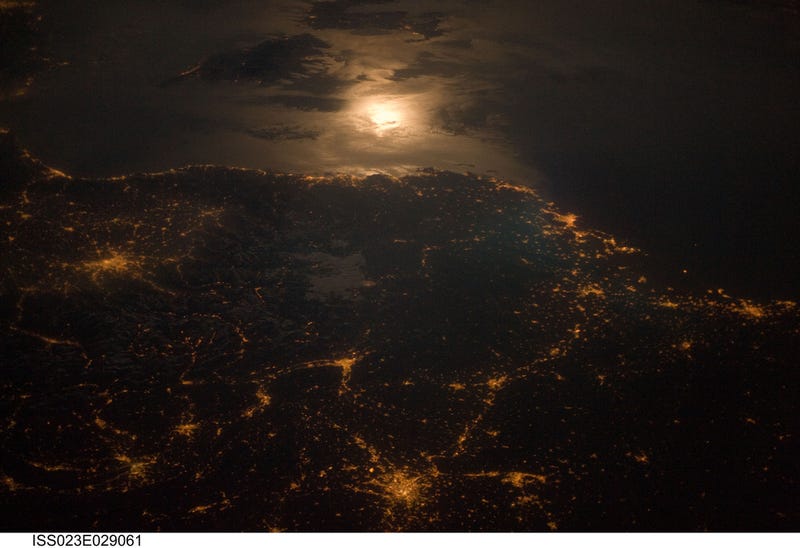 Parts of Europe (with the "boot" of Italy in the middle) and Africa shot by one of the Expedition 25 crew members aboard the International Space Station flying 220 miles above Earth on October 28, 2010.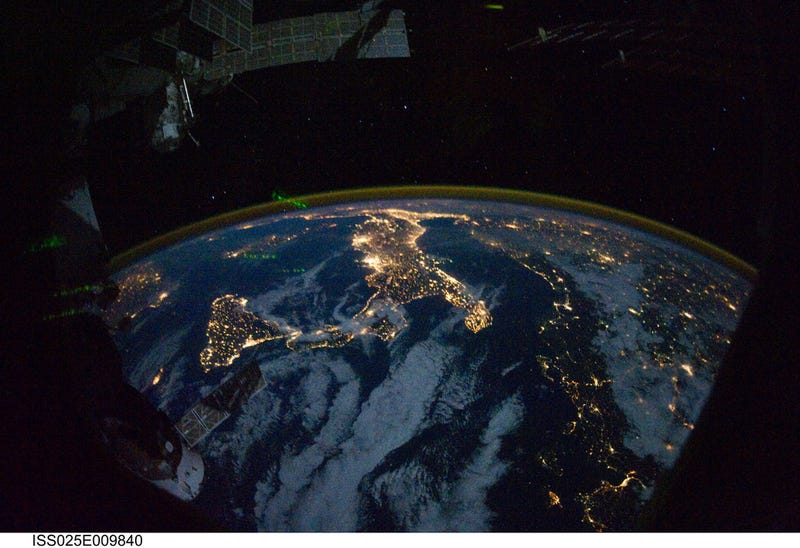 Montreal, Canada, by an Expedition 26 crew member on December 24, 2010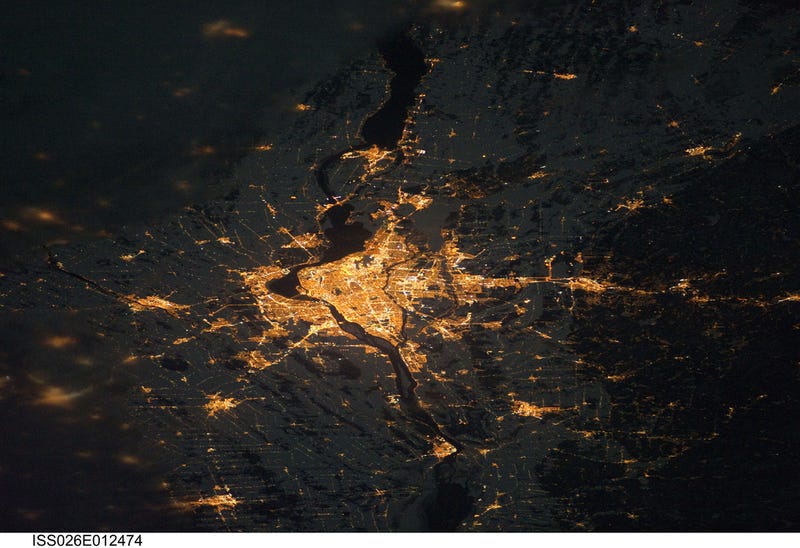 Brasília, the capital city of Brazil, planned by Lúcio Costa and Oscar Niemeyer in 1956. Photographed by an Expedition 26 crew member on the International Space Station, January 8, 2011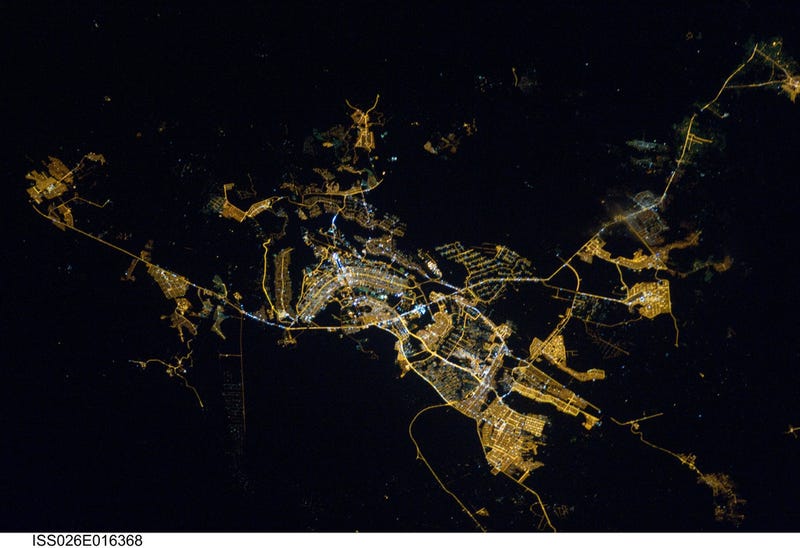 Aurora australis over Indian Ocean, photographed by one of the Expedition 29 crew members from the International Space Station, September 17, 2011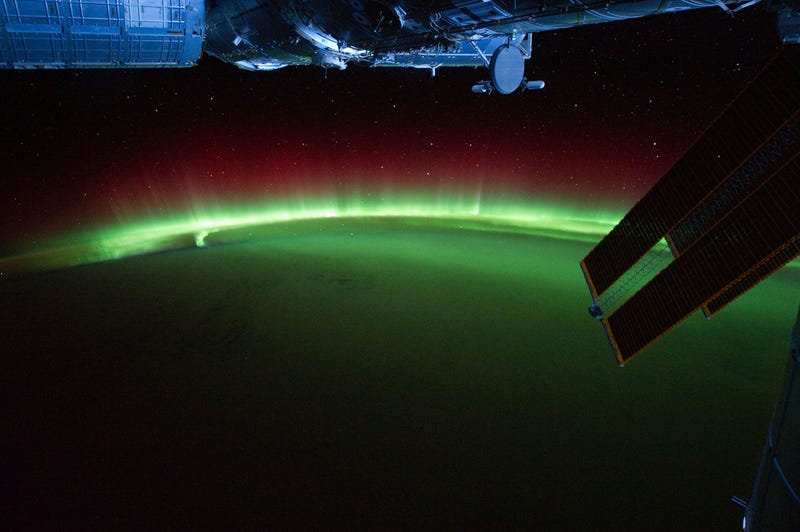 The cloudy Greater Chicago Metropolitan Area, photographed by a crew member of the Expedition 30, on February 2, 2012

The faint gold line of airglow — caused by ultraviolet radiation exciting the gas molecules in the upper atmosphere — parallels the horizon or Earth limb. Minor auroral activity (Borealis) is visible in upper right.
(via NASA's Marshall Space Flight Center)
Dubai, United Arab Emirates, photo taken by an Expedition 30 crew member on ISS, February 22, 2012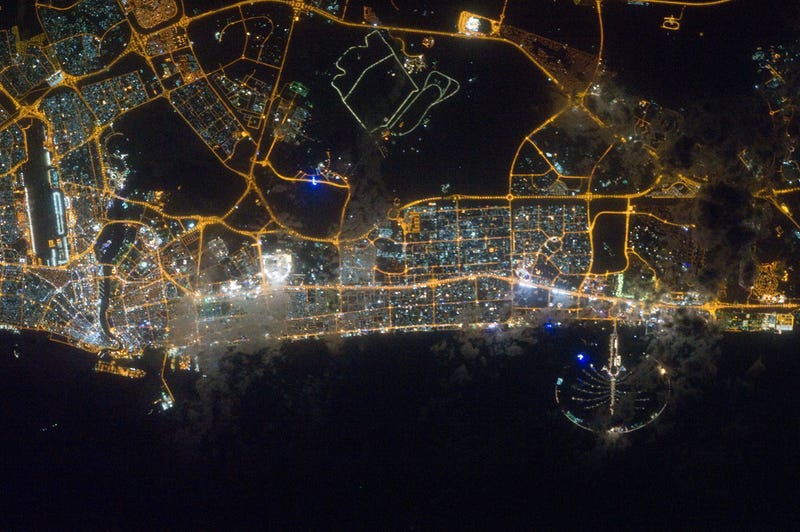 Moscow, Russia from the International Space Station, on March 28, 2012
Wildfires near El Paso, Texas and Las Cruces, New Mexico, photo taken by a crew member of Expedition 31 aboard the ISS, while a Russian spacecraft is docked to the station, June 2, 2012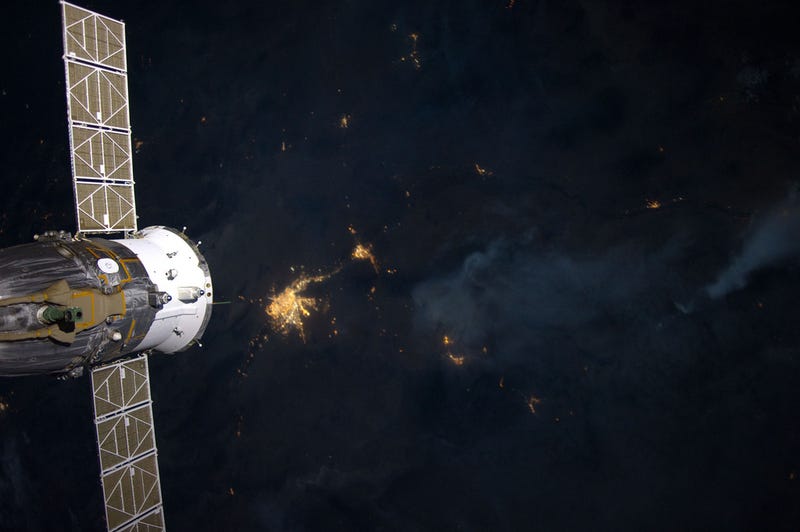 U.S. lights at night, a composite image assembled by data acquired from the Suomi NPP satellite in 2012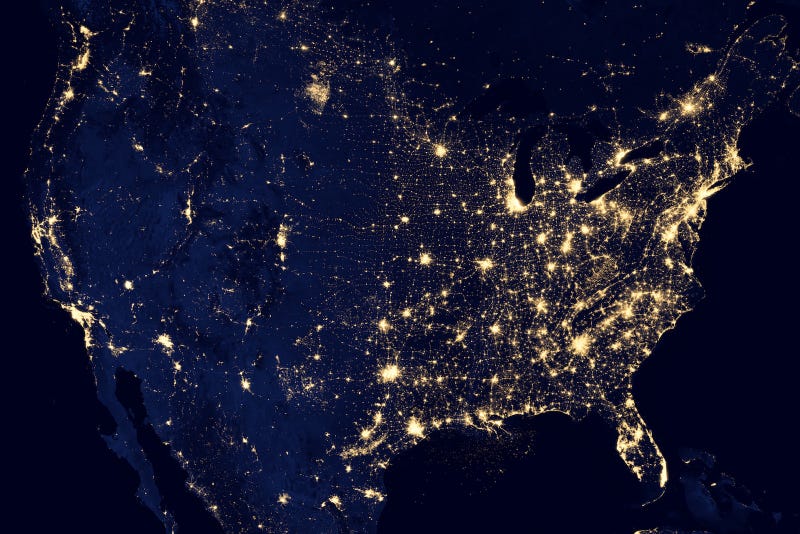 Qatar, taken by an astronaut aboard the ISS on October 13, 2012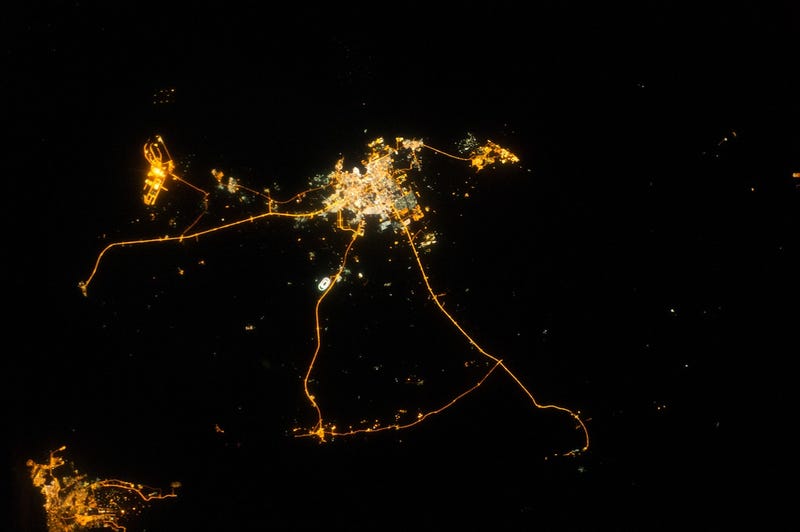 Dallas at Night, photographed by an Expedition 33 crew member on the ISS, November 15, 2012

Most metropolitan areas of the western United States are configured over large areas with a regular street grid pattern that is highly recognizable from space, particularly at night. The northern Dallas metropolitan area exhibits this pattern. The north-south and east-west grid pattern of major surface streets is highlighted by orange street lighting, lending a fishnet-like appearance to the urban area. Within this framework, smaller residential and commercial buildings and streets give green-gray stipple patterns to some blocks. The airplane terminals of Dallas-Fort Worth International Airport are lit with golden-yellow lights, and surrounded by relatively dark runways and fields at left. Likewise, the runways of Dallas Love Field at lower center are recognizable by their darkness. Other dark areas within the metro region are open space, parks, and water bodies.
(via NASA's Marshall Space Flight Center)
Berlin at night, 23 years after the Fall of the Berlin Wall. The divide is still visible from space due to different types of lightbulbs.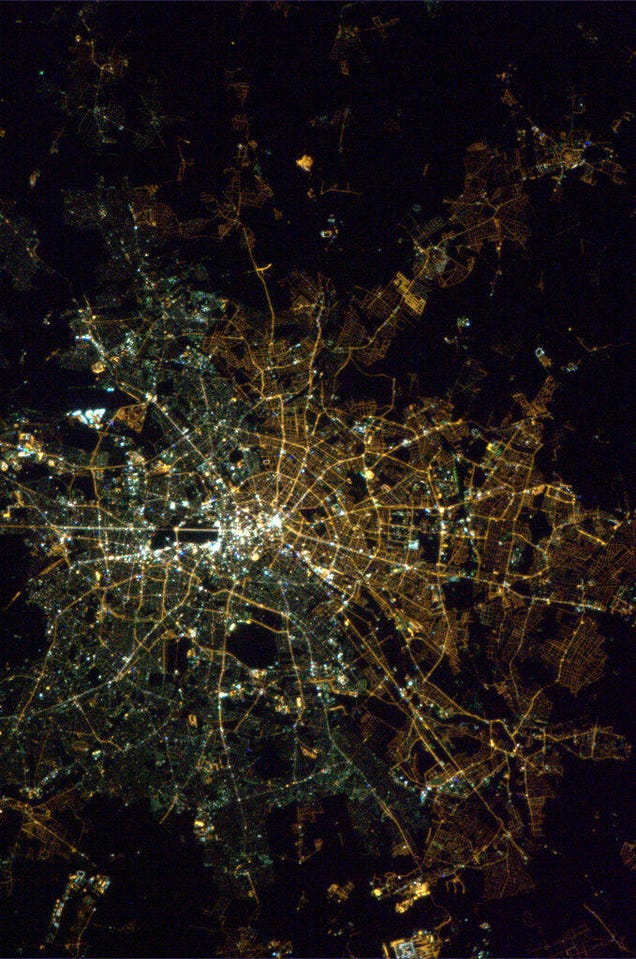 View of the Nile River Valley, the Nile Delta and the Mediterranean Sea, October 2012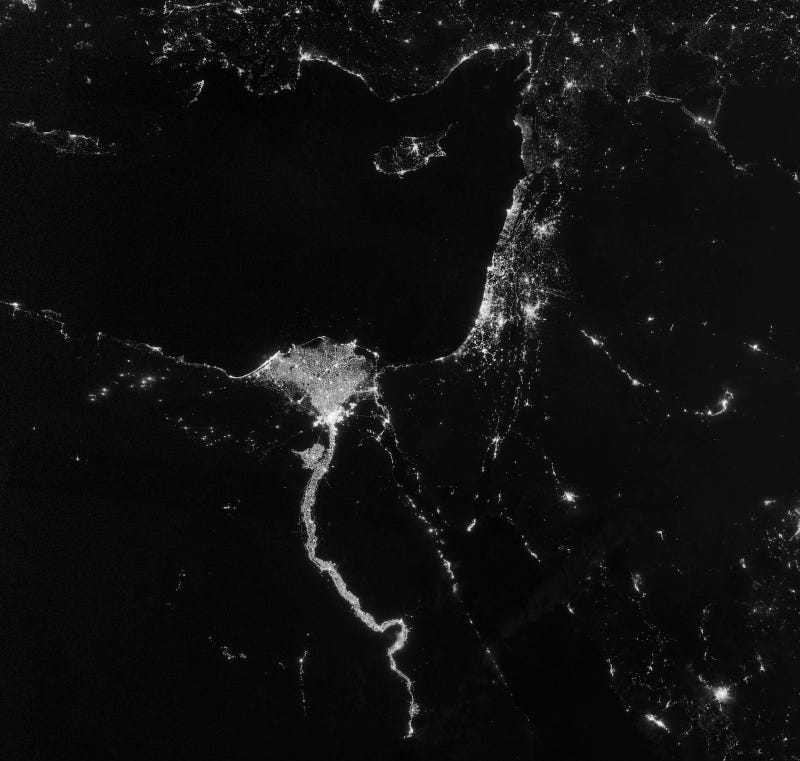 Nighttime view of the aurora australis, also known as "southern lights", over Antarctica's Queen Maud Land and the Princess Ragnhild Coast, July 2012, captured by the VIIRS (Visible Infrared Imaging Radiometer Suite) on the Suomi NPP satellite

(via NASA Earth Observatory)
The Earth at night, a composite image assembled from data acquired by the Suomi NPP satellite in 2012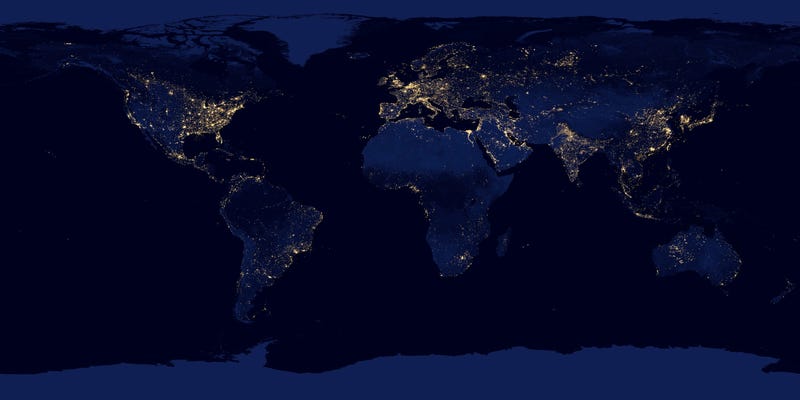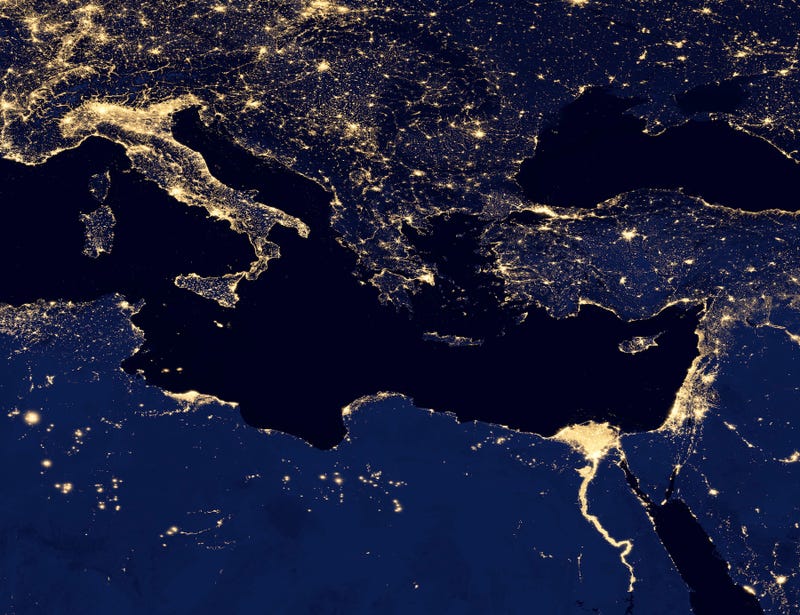 The Mediterranean Sea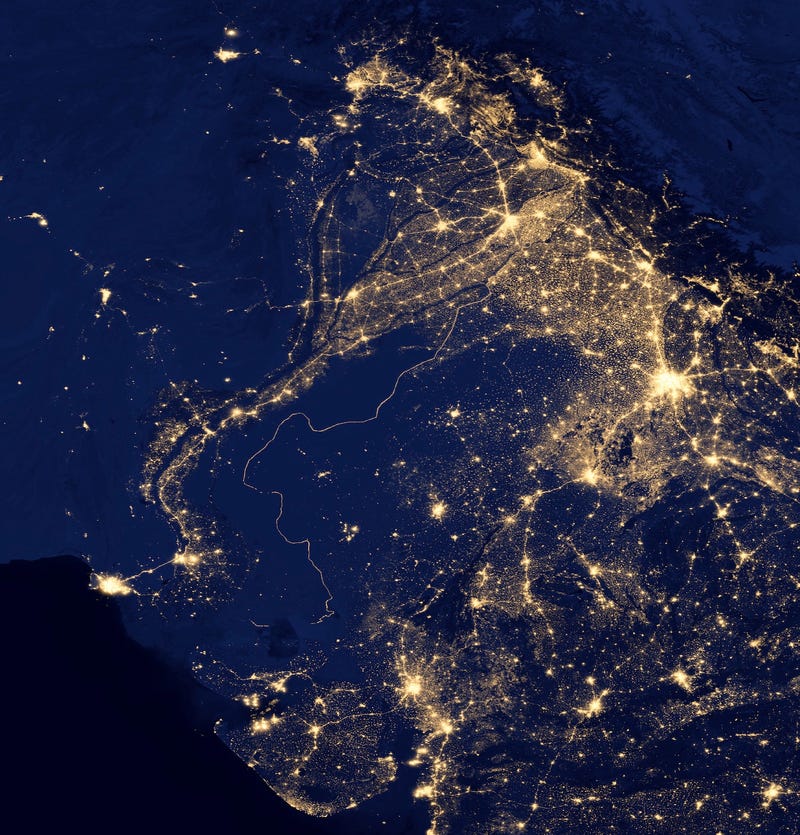 The Indus River, home of the Harappan Civilization (also known as the Indus Valley Civilization), the largest human habitations of the ancient world. They developed new techniques in metallurgy and handicraft, and their Bronze Age cities are famous for their urban planning. (water supply systems, drainage systems and baked brick houses)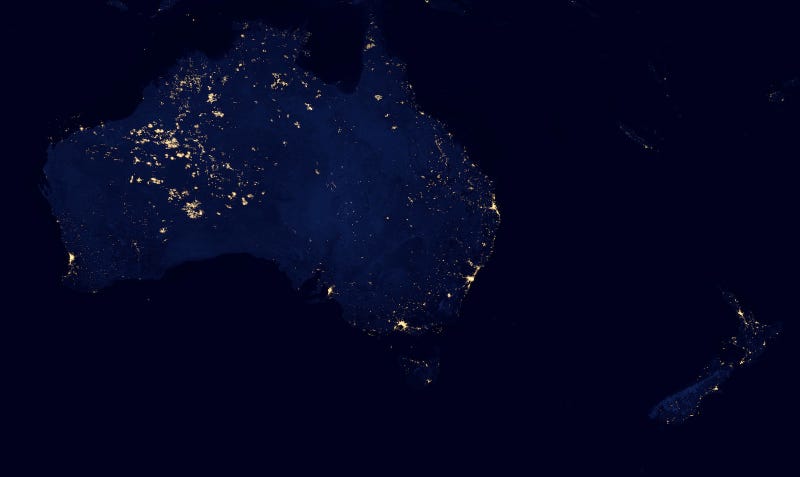 Australia and New Zealand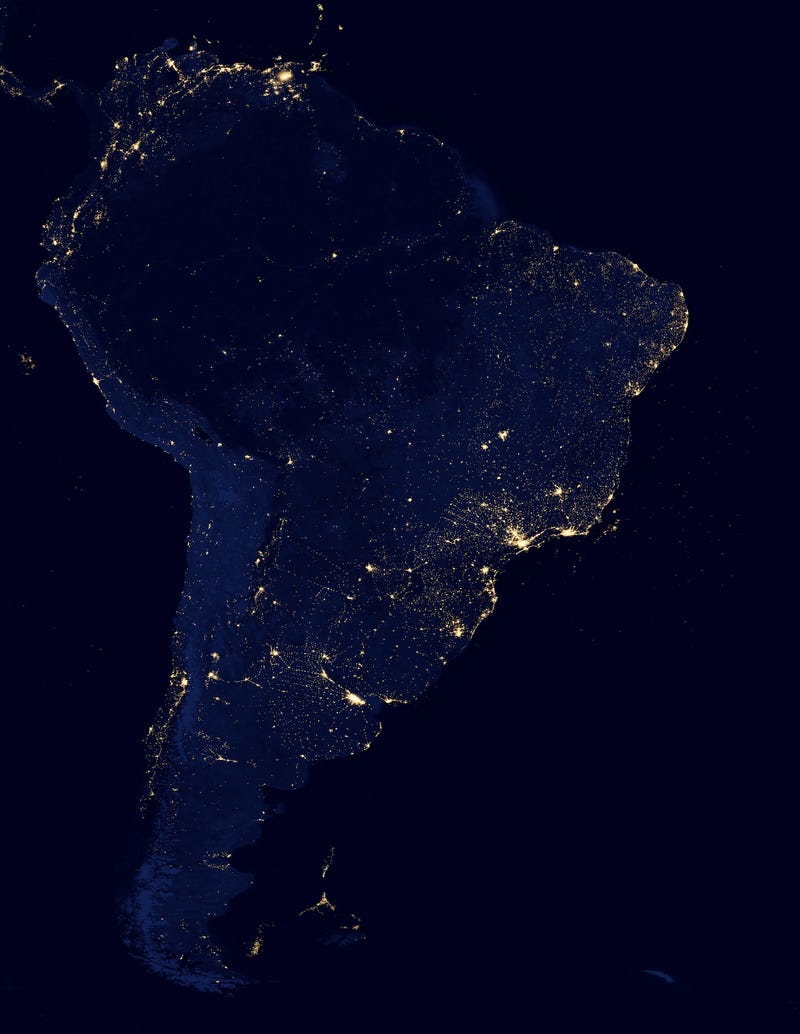 South America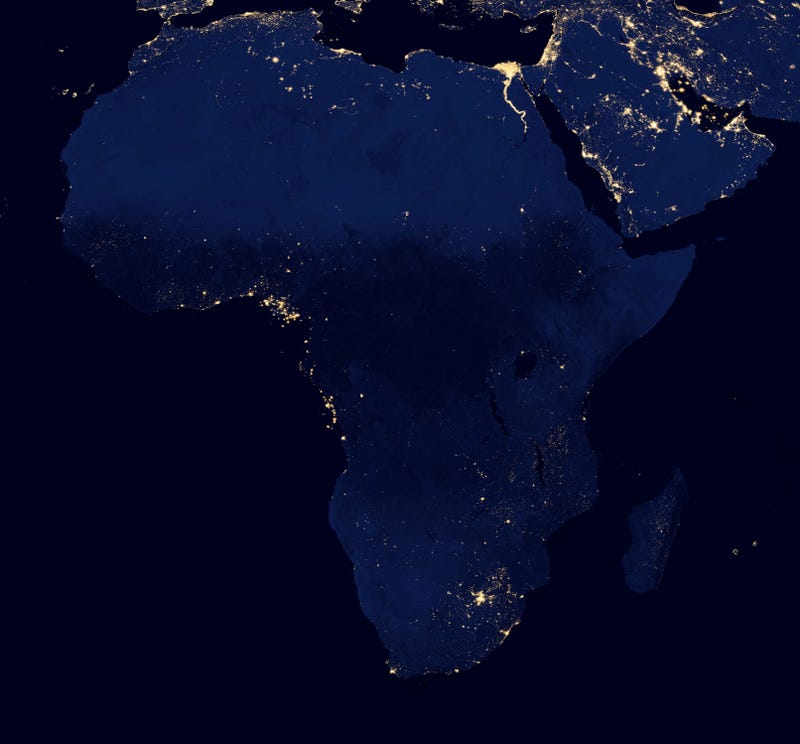 Africa
(via NASA Earth Observatory)