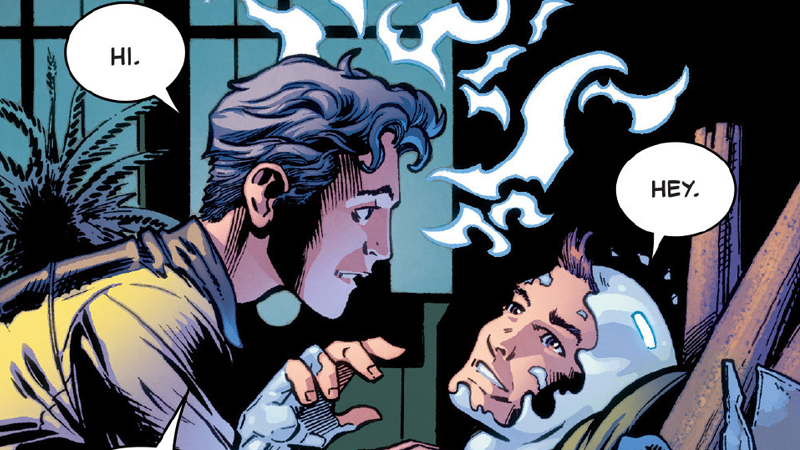 Poor young Bobby Drake. First, he and his fellow X-Friends got sent forward in time and stuck in their own future. Then he came out, and had to struggle with why his older self had yet to do so. Now he's found himself a cute crush, only to immediately get hit with the mother of all unsubtleties.
Today's All-New X-Men #13 by Dennis Hopeless, Mark Bagley, Andrew Hennesey, and Nolan Woodard, is pretty much all about Bobby trying to hook up with someone. Comfortable enough with his sexuality at this point to start going to gay clubs, he goes out for a night on the town in Miami with fellow X-members Oya and Kid Apocalypse in an attempt to flirt with some guys... it doesn't go well.

After making some progress with one guy at the bar, Bobby freaks out and accidentally ices up, running out of the club in embarrassment only to barrel right into someone outside. They too hit it off pretty quickly, only for their flirtation to be interrupted by a giant monster.

The X-Men roll into action, only for Bobby's new romantic interest to intervene—the "monster" is actually a newly awakened Inhuman, and Bobby's crush is an Inhuman empath used by the New Attilans to calm Inhumans down after they're newly awakened.
Yes, Mutant Bobby Drake's potential new boyfriend is an Inhuman, Marvel's group of superpowered humans who have been at odds with Mutants since the company's All-New, All-Different label began. They're star-crossed lovers! Warring factions! It couldn't be more unsubtly Shakesperian if they tried.