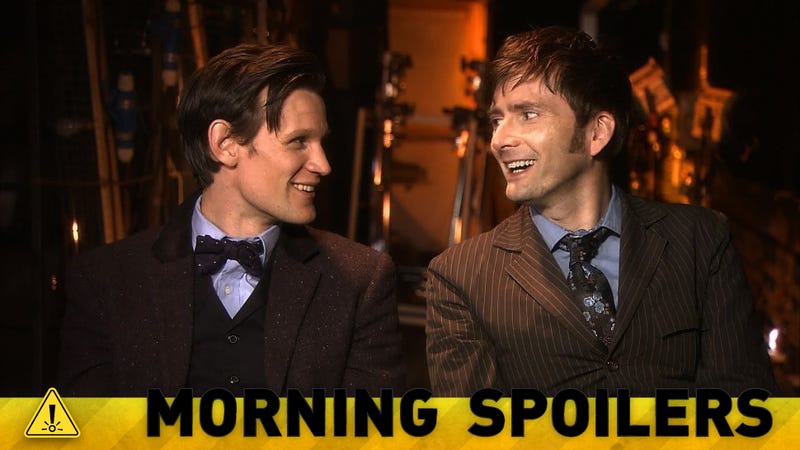 Steven Moffat drops hints about the 12th Doctor's first adventure. Lucasfilm's Kathleen Kennedy explains how J.J. Abrams will build the world of Star Wars: Episode VII. Check out a new Elysium clip. Plus Amazing Spider-Man 2, X-Men: Days of Future Past, Godzilla, Game of Thrones, and more!
Top image from Doctor Who.
Star Wars: Episode VII
At a recent Star Wars Celebration event in Essen, Germany, Lucasfilm president Kathleen Kennedy said that George Lucas has already shared all his story ideas with J.J. Abrams. Here are some more thoughts from Kennedy at the event:
"Much like many of you, looking at all the Star Wars movies and getting a feeling in what the early films did in combination with real locations and special effects — that's something we're looking very seriously at. We're going to find some really cool locations for Ep VII. We're going to use every tool in the toolbox for this movie… It's using artwork that you can touch and feel in combination with CG effects… We know that if we don't have great stories and great characters, then effects mean nothing… We have an opportunity to create some amazing new characters."
[Star Wars Blog via /Film]
---
The Amazing Spider-Man 2
Director Marc Webb identifies a quality this sequel will have that its predecessor lacked:
"I think what was maybe missing from the first movie a little bit is that sort of joyfulness of being Spider-Man... I was saying this before...what I loved about Spider-Man was that he was having a blast being Spider-Man. And I don't know if we've really seen that really embraced in any of the movies before."
[Hitfix]
---
X-Men: Days of Future Past
Director Bryan Singer discusses the film's setting:
"It takes place about ten years, give or take, after X-Men 3; and in the past it takes place about ten years after First Class… It's its own story, inspired by Days of Future Past. [Kitty Pryde is] the prime facilitator - it's her power that enables that to happen. But it's Wolverine who has the strength and the stamina to be able to go back on this journey. Charles is in a very dark hole when we meet him, and Erik has been gathering his power. They're in a radically different place."
[Empire Magazine via Comic Book Movie]
---
Elysium
Here's a new clip. [Coming Soon]
---
Godzilla
Director Gareth Edwards explains how this movie offers a more realistic version of the Godzilla monster while still paying tribute to the 1954 original:
"In a way we approached it was, imagine in 1954 (when the first Godzilla movie was made), that this creature really existed and someone saw him from Toho, the Japanese studio, and went running back to the studio and said, 'I've seen this creature and it kind of looked like this.' And they tried to draw it and they tried to make a suit and they did a very good job of it but then, when you saw the real creature, you go 'Okay, I totally understand how you got that suit from that creature but now I see the real thing. Oh my God, I totally believe that it's completely real.' And that's how we approached it. We went through hundreds of designs, and never stopped playing really until the last minute and got to the point where it was like, 'Is there anything else that we want to change about this design'? And I was like, personally no, I'm very happy with it. And Toho was very much a part of the approval process. So it's a Toho approved design as well."
He also discusses how best to balance human emotion with the epic CGI elements:
"I think the trick is not to think of the special effects or anything – and just think that this is really happening and there are giant monsters. Ask, 'What would be the best story to tell that always involves humans?' I don't separate the two in my mind. You just picture the movie. What was so refreshing was that we would shoot scenes that sometimes had the creature in it and sometimes didn't, but we would desperately try to make it work from an emotional point of view. Then, in the evenings, I would go to review things with the effects companies who are starting to put the visual effects in, and you're like, 'I completely forgot there's a whole other layer to this!' We have been painstakingly worrying about the characters and their journey and on top of that is this spectacle embedded in the whole film – and it makes you feel really good."
There's more at the link, including some hints about where Edwards might look for a potential sequel. [Screen Rant]
---
The Hobbit
Peter Jackson posted these set photos from what is, at least for now, the last ever day of filming.