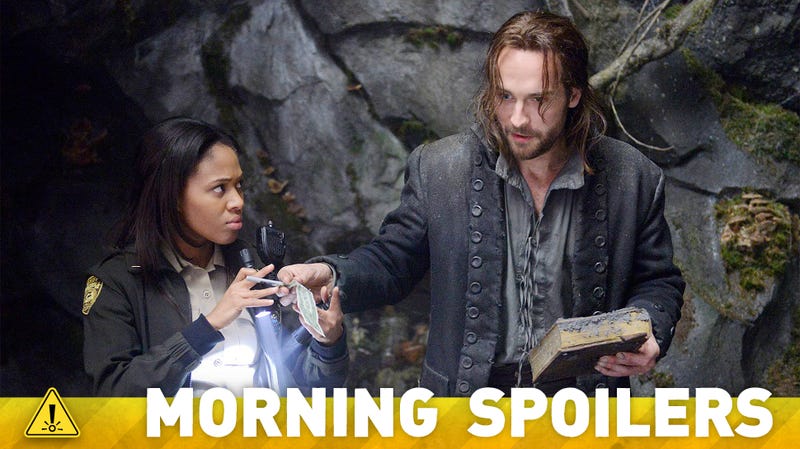 Chris Cooper hints that Norman Osborn will have a major part in Amazing Spider-Man 3. The next Game of Thrones season finale will be like nothing you've seen before. Plus photos from the season finale of Dracula and the return of Sleepy Hollow. And Nikita finale spoilers. Spoilers now!
Batman Vs. Superman
In what looks like her first interview on the subject, Gal Gadot responded to a question about whether she fit the "body type" for Wonder Woman:
It's been said that you're too skinny for the part. Wonder Woman is large-breasted, is that going to change?

Hmm. I represent the Wonder Woman of the new world. Breasts… anyone can buy for 9,000 shekels and everything is fine. By the way, Wonder Woman is amazonian, and historically accurate amazonian women actually had only one breast. So, if I'd really go "by the book"…it'd be problematic.
When pressed on it, she focused on the fighting training she's doing:
So you're not going to gain a little weight and start eating carbs before filming begins?

It's the physical preparations that I'm starting now. A very serious training regimen – Kung Fu, kickboxing, swords, jujutsu, Brazilian…1,000 and 1 things…I'll gain body mass,
[Batman News via Slashfilm]
---
Amazing Spider-Man 2
Chris Cooper's said that, whatever we see of Norman Osborn in this film, it's just the beginning:
This is the introduction to Norman Osborn, and apparently it's going to lead to other things down the road. This is a very strange introduction for Norman Osborn. I just can't reveal why it's that way, but this is not the beginning of Norman. It is the introduction, but it's not the beginning, and I think that's as far as I can go.
He also said that he spent no time in front of green screen for this film, but expects to do so for Amazing Spider-Man 3. All of that leads to the conclusion that we'll be probably be seeing Norman just as himself in Amazing Spider-Man 2, and not much of his Green Goblin alter ego. [Comic Book Resources]
---
Shazam
Don't hold your breath for the long-delayed Shazam movie. Director Peter Segal seems to think that Man of Steel 2 killed this project:
After Bryan Singer's 'Superman Returns,' it seemed like there was a moment in time where Shazam was going to see the light of day. That's when you heard those stories. Now that Superman is being invigorated and going up against Batman, I think it's difficult for DC to figure out how to launch this character in the wake of Superman's resurgence….I've always loved Shazam, but I don't know if it's going to see the light of day anytime soon.
---
Game of Thrones
Here's the latest post from the Making of Game of Thrones blog, which talks about the work going into a huge battle scene for season 4:
Two years ago in a quarry just north of Belfast, the Battle of Blackwater came to life under the keen eye of director Neil Marshall. It was not an easy shoot, requiring nearly a month of night shoots in the unforgiving October weather. The red mud was so churned up by the trucks and the feet of the marauding hordes of extras and crew, that by the end, it was no longer possible to drive anything but the sturdiest of vehicles down to the castle set. Carrying kit out became a challenge of endurance.

Two years and two seasons on, we have returned to a location not far from the first and Neil is back at the helm once more. It's still several weeks of night shoots, and being Belfast, there is still rain, but this time the fight Neil is navigating is not anywhere on the water. The planning of this battle has been taking place for months but unlike any other episode of Season 4, Neil's will be filmed in a very concentrated burst. In fact, for many on the show – including most of the cast and the other directors, their work was complete before filming on this episode had even begun.

Throughout our shooting schedule, our crew and specialist departments are on their toes, but perhaps never more so than this season. This episode has kept the teams in stunts, armoury, prosthetics, SFX and VFX particularly busy, with camera tests and stunt rehearsals happening for several weeks beforehand.

As always, I can't give too much away, but a little hint won't hurt: Although this battle will not be laden with wildfire, I can say you've never seen an army like this on 'Game of Thrones.'
We already know that Marshall's directing the final episode of season 4, and he's said that it'll feature the battle between Night's Watch and Mance Rayder's Wildling army at Castle Black, so that's likely what's being referenced in the blog entry. [Making of Game of Thrones via Winter Is Coming]