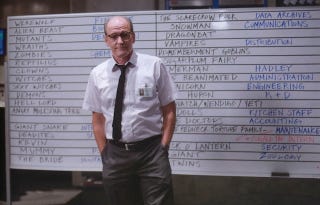 If you follow genre television, internet fandom, or literary criticism, you've probably heard the word "meta" used to describe everything from a narrative form, to intensive analysis of character backstories in Harry Potter. How did this Greek prefix meaning "beyond" come to mean so much to so many of us?
You can probably blame it all on philosophy. Many years after the Greek philosopher Aristotle had died, scholars collected his work into a collection where his philosophical musings were placed after his musings on physics, or science. They called this section on philosophy "metaphysics" because "meta" can be roughly translated to mean "beyond" or "after" (it can also mean a few other things, but let's leave those aside). This use of the word metaphysics quickly mutated beyond its original, literal meaning of "stuff that comes after the part on physics." It came to describe a whole branch of Western philosophy that was concerned with the realm beyond what science could describe.
And thus the weird history of "meta" began, with a slippage in meaning that pretty much never stopped sliding around. Philosophers in the millennia since Aristotle have often classified their work as "metaphysical," but meta has gone through another rapid set of changes over the last few decades.
In the early twentieth century, scholars began to use meta as a prefix to mean "something about something," so that metaeconomics is a form of economics that directly references economics — and a metalanguage is a language that's used to describe other languages. In the 1970s, critics began talking about "metafiction" and "metanarratives" — these were stories that were about storytelling itself. The literary scholar William Gass is often credited with popularizing the term "metafiction." In a 1970 essay, he wrote that metafictions emerge when "the forms of fiction serve as material upon which further forms can be imposed." No longer were writers content with writing stories about people or events; instead, they were writing stories about writing stories. Metafiction can take a number of forms — anything from the author addressing the reader directly, to an author writing a book about writing books. In movies and TV, we'd call these techniques breaking the fourth wall.