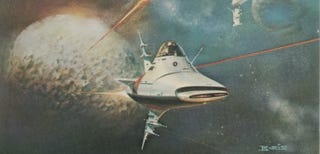 Set in a dystopian wreck of a future, Gateway follows one man on a get-rich-or-die-trying mission to an unknown location, with unknown results, on an alien ship with a crap return rate. It's a menacing tale, and now it's going to be a TV series. A dark, dark TV series.
Deadline is reporting that Entertainment One Television (Bitten, Walking Dead, Haven) and De Laurentiis Co.(Hannibal) are working together to develop and produce a drama adaptation of this work.
To describe this classic, we default to Josh Wimmer who wrote a wonderful review of this Hugo Award-winning novel.