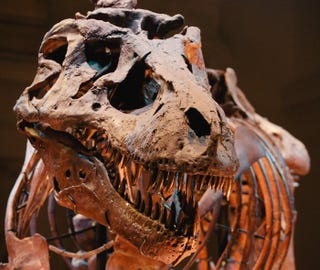 Fossils are amazing, so of course you want to own one. Not so much. Owning a piece of geologic history seems awesome, but the fossil trade is ethically dubious and can substantially harm science. Selling fossils into private ownership means they're lost to research forever.
Above: Sue the Tyrannosaurus was recovered from the auction block for the staggering price of $8.4 million. Image credit: Getty Images/Tim Boyle
When I transitioned from physics to geophysics, I gleefully embraced wearing beautiful, unusual rocks as my professional right, and started building a collection of geology-themed earrings and pendants. One winter at the largest geoscience convention in North America, I picked up a pair of trilobite earrings from the trade hall. I love them and wear them frequently, but did I inadvertently steal from our limited fossil heritage?
Not my trilobite earrings, but very close. Image credit: Gilbert & Skeggs
Fossils are a Limited Resource
Fossils require special circumstances to form. Not everything that dies is preserved in a fossil; most creatures aren't. We only have so many fossils to rebuild our understanding of the past. When those fossils disappear into private ownership, we no longer have scientific access to those specimens. Maybe an individual will grant access out of the goodness of their hearts (or the curiosity of their minds), but that isn't guaranteed.
Not every single fossil is scientifically significant — limestone, dolomite, chalk, and coal are all rocks made entirely from fossils, but are common enough that we use them commercially. But the most interesting fossils, the ones that collectors would love to stash away for their personal bragging-rights and eye-candy, are also the ones with the most scientific value, reconstructing our understanding of the planet's past before we had scientists scampering around everywhere recording it.
Carefully dissecting dinosaur eggs from Mongolia. Image credit: Getty Images
Why do we care about the past? Because it can tell us about the future. Because it can help us understand how creatures have changed from then to now. Because realizing that chickens are a not-so-distant relative of the tyrannosaurus is both hilarious and awe-inspiring. Because this planet is our home, and we are curious creatures.