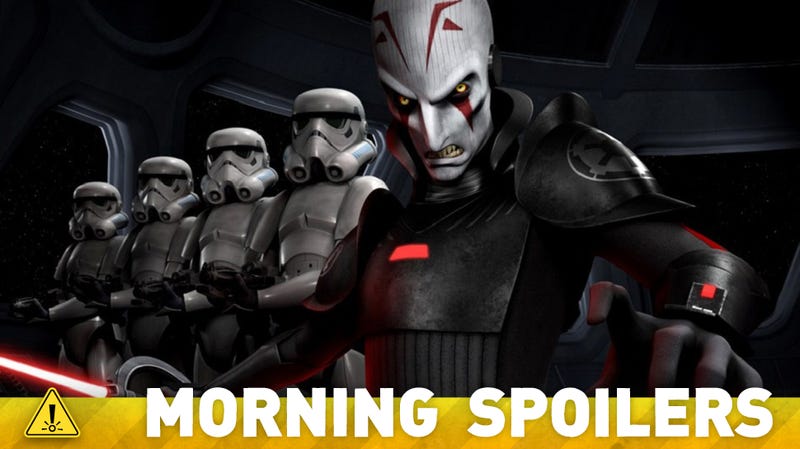 Have all the Star Wars auditions we've been hearing about for months just been for new TV shows? Set photos may show the return of a classic series monster to Doctor Who. Roberto Orci describes Sleepy Hollow's season two villains. And are the Lego Movie directors taking over Ghostbusters 3? Spoilers now!
Top image: Star Wars: Rebels
Star Wars
More information has come from the Disney shareholders meeting, with Bob Iger saying that the only officially returning character is R2-D2 — and going on to say that he has nothing further to say, other than that the concept art looks fantastic:
I know many of you were hoping for some 'Star Wars' news, but it's really early in the process, so there really isn't much that I can share with you right now.

... the team is well into preproduction … and from the concept art that I've seen so far, 'Star Wars: Episode VII' really looks amazing. For now, that's it. I'll get in trouble if I say more.
[Variety]
Cinelinx has a source that claims that all the auditions we've been hearing about haven't just been for Episode VII, but include new television projects including "specials and miniseries." Cinelinx goes to to link that information to previously leaked image from the European Brand Licensing Show, which listed a "Darth Vader special" for 2014. Now, that same document had Episode VII on track for summer 2015, so chances are that if there is still a plan for a "Darth Vader special," it's been moved back as well. [Cinelinx via Slashfilm]
---
Divergent
Director Neil Burger explains why he won't be back for the sequel, Insurgent. Back in December, he found himself in post-production on Divergent and also prepping reshoots, while being pressured to start pre-production for the next film in the series. He realized it was too much at once:
There's always going to be overlap, but it was getting really complicated. There was no breathing room. They were like, 'We're holding to a March 2015 release date, and we have to start no later than May 2014.' It was a recipe for failure, at least with me onboard. I wouldn't be able to do either thing right. I reluctantly let it go.
Star Shailene Woodley says the change-over in directors, with Robert Schwentke taking the next installment, was kind of confusing. "It was weird... He was the leader of this entire pack, and he created this world, he dreamt it up, he made all of the executive decisions. It was strange to think that somebody else is going to come over and take it on."
---
Captain America: The Winter Soldier
Writers Stephen McFeely and Christopher Markus talked about how the Winter Soldier's identity, which isn't exactly a secret for many viewers, acts as the catalyst for everything Captain America experiences in the film:
McFeely: Right. It's like, "Are you fucking kidding me?"

Markus: We played with deploying it in a couple of places because it's like, you know, geez, do you have no mask and just get it over with? Or do you delay it too long even though anyone's who's read a comic book knows who he is. But it all synced up really nicely to have him part of this larger conspiracy that Cap's uncovering. And so, you know, as the story unravels you get closer and closer to seeing the face of this. And the enemy is ourselves.
They also gave a few details about their scripting for Captain America 3, one of which may be a joke:
Are you going back to the comics for the next one and plan to adapt another story, while incorporating the many threads left open at the end of this one?

McFeely: Oh yeah, you can probably predict some of the threads we would like to pick up again that we've laid out there. And we always go back to the comics and dive back in and look at anything we've missed in the last few years that might be relevant.

Markus: We've definitely set out on a more realistic road in the Cap movies, you know. Even more grounded than in the other MCU movies. And so it kind of rules out Cap fighting the Dinosaur Man or something like that. There are some that aren't gonna start and other ones that — I mean there's a couple we're playing with right now that we really want to take elements from. Which we'll not reveal.

Oh, come on.

Markus: All I'm saying is psychotic 1950s Cap.
[Den of Geek via Comic Book Resources]
---
Star Trek 3
Co-writer J.D. Payne spoke to the LDS Film Festival back in February, and revealed a little bit about what their thinking is for the third movie:
We're trying to set up a kind of situation where you really could — and not in just an 'everything's relative' sort of moral relativism — you could be a good person of any creed or philosophical background and come down on both sides of how you should respond to this opportunity that the crew has.... that also has some pitfalls to it. Where you could argue very, very, very compellingly that 'this' is what you should do, and if you're advocating 'this' then it's actually evil.

It's sort of the Adam and Eve thing, where should we eat the fruit or not eat the fruit? Well, there are some very compelling reasons why they should and why they shouldn't. So, similar kinds of things here that really give the whole movie and opportunity to sort of play with that, and have people come down on different sides and wrestle with it; then come to an ending where you can walk out and say, 'You know, I don't know what I would do.
See the video below. [TrekCore, h/t to Lava_Lander on Twitter]
---
Ghostbusters 3
Nikki Finke is reporting that Phil Lord & Chris Miller (Lego Movie, 21 Jump St) are in talks to replace Ivan Reitman as the director of this threequel. [Nikki Finke on Twitter via Coming Soon]
---
Passengers
Following the departures of both co-star Rachel McAdams and the Weinstein Company, Focus Features is in talks to pick up the U.S. rights to this Keanu Reeves-starring sci-fi film. [Variety]