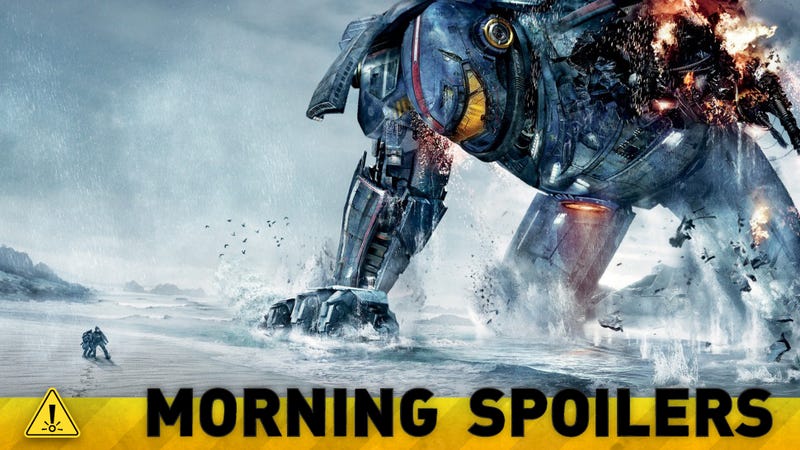 Ben Kingsley reveals what to expect from the Mandarin in Iron Man 3. Anthony Mackie explains the Falcon's role in Captain America 2. Learn how the music in Star Trek Into Darkness reflects the movie's tone. The only Lord of the Rings actor who didn't return for The Hobbit says he'd be willing to appear. Spoilers below...
Top image from Pacific Rim.
Star Trek Into Darkness
Composer Michael Giacchino explains his approach to the film's score:
It is a much darker film. I think [Star Trek 2009] has more of a sense of adventure going on, whereas [Into Darkness] is more of a sort of psychological danger that is happening behind the scenes. So the music is quite different. It is quite darker. It is more internal. It is not as celebratory as [Star Trek 2009] is in many moments. And the film itself speaks to themes of the world today–sort of the geopolitical situation in the world. And it also kind of leans heavily on what is happening in the world today to tell the story... It was really interesting to get inside the head of the new characters. Benedict Cumberbatch is in the film and he is amazing. In watching the film I was able to get so much out of his performance. The first piece of music I wrote for was his theme–the villain's theme. And I'm not going to tell you who the villain is–because I'm not allowed…But watching his performance gave me an idea and I couldn't wait to sit down and write his music for the movie.
There's more at the link. [Trek Movie]
Here's a new clip. [IGN]
And here's a new poster. [IGN]
---
Man of Steel
Here's a pair of spoiler-y teasers for Zack Snyder's Superman movie, courtesy of Forbes. Check out the original article for five more:
— Clark wanders the world doing super-deeds, and reporter Lois Lane gets very interested. Part of his journey of self discovery involves traveling the world and looking for answers about his destiny, to decide what he's meant to do with his powers. Along the way, of course, he's going to help people using his powers, and that's bound to attract some press attention. So Lois will start looking for this mysterious super-samaritan, and eventually she'll find him (he's the one in the big red cape).

— General Zod comes to Earth looking for Kal-El. While it's not clear exactly what fate (if any, yet) has befallen the planet Krypton, Zod and Faora are tracking down Superman, and the fact our hero was illegally birthed on his home world might factor into Zod's reasons for trying to track him down.
[Forbes]
---
Iron Man 3
Writer-director Shane Black makes it clear that his movie won't deal with the franchise's more fantastical elements, particularly as they pertain to Ben Kingsley's villain, the Mandarin:
"We decided very early on we liked the idea of taking Michael Crichton type elements and mingling them with a real world Tom Clancy environment. It's funny, I look at these blogs and some people are saying, 'What about The Mandarin's magic space rings? They should shoot lasers.' I almost want to apologize in advance to the people who want to see lasers shoot out of his rings because it's not going to happen."
And here's Kingsley on what to expect from his performance:
"There are demonic layers. He's in a state of solitude a lot of the time, and there's nothing to give him a boundary. I go crazy. You can put him in quite a different category from Whiplash, who's reliant on brute force. The Mandarin is reliant on manipulation of the media. He's an all-pervading presence through modern technology. He'll hack into your cell phone. He'll broadcast across the nation on TV."
Incidentally, if you want to check out an interview with Guy Pearce, who plays fellow villain Aldrich Killian, go here. [Total Film via Comic Book Movie]
---
Captain America: The Winter Soldier
The Hurt Locker's Anthony Mackie talks some more about his role as Falcon:
I'm happy to say that I'm in a good deal of the movie and I play an integral part with Captain America taking down the Winter Soldier. It's great. They started the shoot 2 1/2 weeks ago and once I finished doing press for 'Pain & Gain,' I go in and join them. I've been doing combat training and fitness training just to get prepared. It's going to be something and I'm excited for it.

How is the costume going to look like?
They just released pictures of the costume last week. It's more of a military style tactical costume. He's more along the lines of Captain America as far as being a superhero as opposed to a true superhero.
---
X-Men: Days of Future Past
Bryan Singer sent out this tweet, confirming that filming begins today and that Patrick Stewart is back on set as the original Professor Charles Xavier. The photo is below. [@BryanSinger]
---
Pacific Rim
Here's a TV spot.
---
Snowpiercer
Here's a character poster from the post-apocalyptic train movie. Go here for the rest. [Coming Soon]