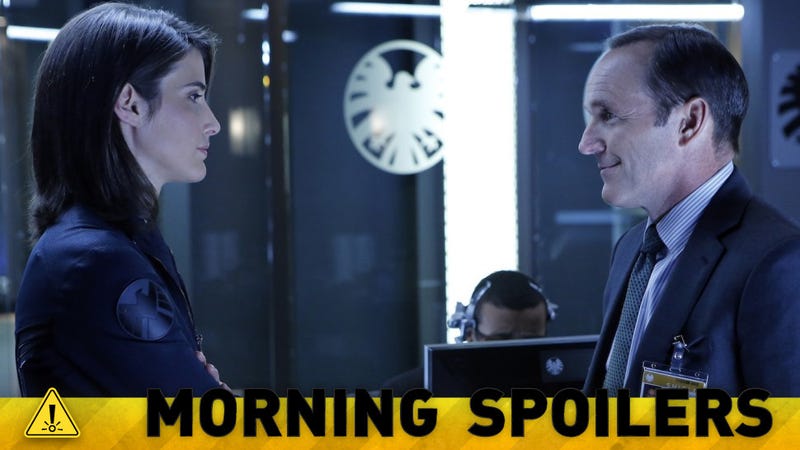 Plus check out some rumored Batman Vs. Superman art and find out who might be playing a major hero in that film. Bong Joon-ho's talking about every cast member of Snowpiercer, Scott Gimple explains how Camus influenced this season of The Walking Dead and Cobie Smulders confirms that Maria Hill will be in Age of Ultron. Spoilers ahead!
Snowpiercer
Bong Joon-ho spoke to Twitch about each member of the cast.
On Song Kang-ho (Namgoong Minsu) and Ko Ah-sung (Yona):
I was very lucky in the case of my Korean actors, Song Kang-ho and Ko Ah-sung. We know each other very well, we are partners. I suggested this movie to both of them in 2009, even before I started writing the adaptation. "Let's take on the train, but perhaps you have to wait maybe 2 or 3 years," and they both said "Okay I will wait." It was that simple.
On both Jamie Bell and details on the character Bell plays, named Edgar:
Jamie Bell was recommended by my casting directors, Jenny Jue and Johanna Ray. With the character of Edgar, there is some hidden secret story between Curtis, Chris Evans' character, and Jamie Bell in the movie. When Edgar was very young, some tragic thing happened, and the funny thing is every audience in the world remembers a very young Jamie Bell because of Billy Elliot. It's outside of the text but that is very helpful for this movie. In this movie we can see only the older Jamie Bell, but the audience can imagine and remember his childhood because of that other movie, because he started as a child actor. It was a really brilliant idea by our casting directors.
Most interesting is the section on Chris Evans, who was apparently fascinated with the fight scene in Memory of a Murder, and Bong Joon-ho was not really keen on him:
Anyway, he loved Memories of Murder but frankly speaking I had some kind of prejudice against Chris Evans. I thought of him as some kind of typical American hero type of actor, but Jenny did a really wonderful job, she told me to watch the movie Puncture, a very character-driven independent film. In that movie Chris plays a very sensitive, delicate lawyer, but a drug-addicted lawyer. In the movie Chris was very different from Captain America.

. . . Chris is a supporting role, but it's a very unique story about a serial killer based in the 1970s. He has very long hair, he is very unique in that movie.

He already did those very different kinds of job in the movies, but in Snowpiercer we needed very strong action from Curtis, but at the same time Curtis has a very dark and sensitive background story and some very traumatic experiences. We needed a very delicate aspect of Curtis, and Chris Evans was perfect for that.
More about John Hurt, Tilda Swinton, Octavia Spencer (who is apparently a huge sci-fi fan and really wanted to do a sci-fi movie), and Ed Harris at the link. Go here for photos of the cast. [Twitch]