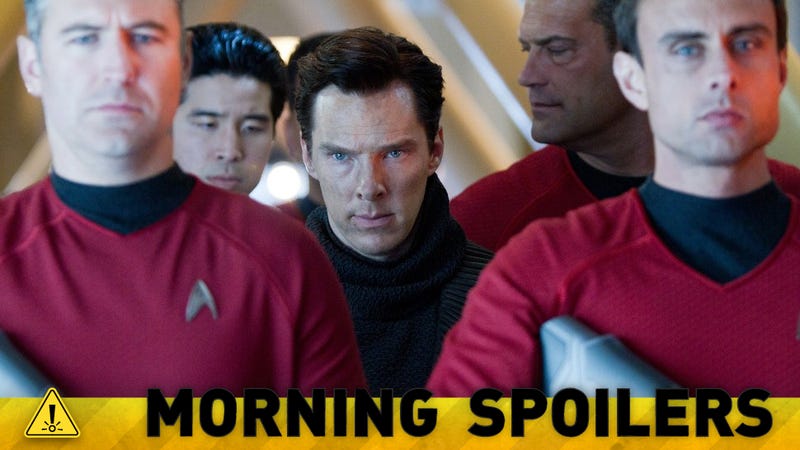 Matt Smith and David Tennant are photographed together at the readthrough for Doctor Who's 50th anniversary special. Find out what to expect in G.I. Joe 3! Primer's Shane Carruth reveals the impressively practical special effects in his latest mindbending film. Robert Kirkman looks ahead to The Walking Dead's next season. Plus new videos for Godzilla, Game of Thrones, Arrow, and Under the Dome. Spoilers from here on out!
Top image from Star Trek Into Darkness.
Star Trek Into Darkness
Co-writer Roberto Orci discusses Benedict Cumberbatch's villain John Harrison and how the character relates to the movie's title:
Well he understands Starfleet because he was enlisted in a similar way. Some might see part of the title coming from the fact that he's kind of a dark shadow of members of our crew. He too has gone through the [Starfleet training] process to some degree, that some of our crew have gone through, and clearly for some reason it's failed to bring him over, so I think he represents that part of our heroes... [It's] not just as simple as it being a terrorist allegory – it's a flavor of the movie, it's an element, but it's certainly not at the center of its plot. It does speak to the fact that we wanted to embed in our universe events that are recognizable to an audience.
And fellow writer Alex Kurtzman offers this assurance that the film, for all its titular darkness, will still be true to Gene Roddenberry's original vision:
The thing that's been interesting to us is that, despite the fact that we are literally going Into Darkness, I think we all worked very hard to make sure the theme of hope, what hope costs, and what it's really about, was always alive in how we were designing our story. So we're pretty consistent with the last movie in terms of dark things happening, but holding on to the light that Roddenberry set up as a basic tenet of the Star Trek universe.
Also, a new image shows the bridge of a ship that's not the Enterprise, and it's quite possibly the ship that crashes into San Francisco. For impressively painstaking analysis of the images and screencaps that show this ship, head over to Trek Movie.
Godzilla
Here's a set video. [Shock Till You Drop]
Upstream Color
Primer writer-director Shane Carruth explains how he created the entirely practical special effects for his latest low-budget, high-concept film: