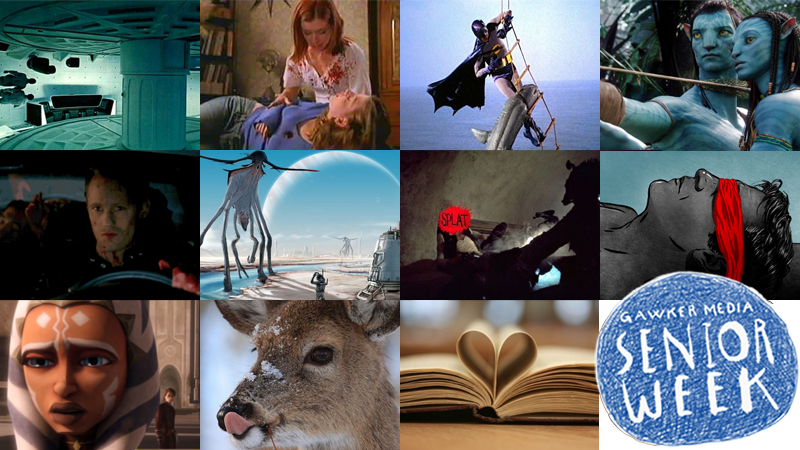 As you may have heard, a real-life supervillain has put Gizmodo/io9's parent company through some shit. io9 isn't going anywhere, but next week things will be different than they have been, so it is a time of somber self-reflection (as well as ridiculous self-indulgence). As such,we've asked io9's greatest writers their favorite posts and moments from the past 14 years.
---
Charlie Jane Anders (2008-2016)
My favorite thing about working at io9 was always the insane conversations I ended up having. I always thought of io9 as just a place to hang out and shoot the shit, and I got up every day knowing I was going to have some of the weirdest and most fascinating arguments you could possibly imagine. A lot of those debates and weird discussions were with my coworkers—Meredith, Cheryl, Katharine, James and Rob always had some totally bonkers ideas about Captain America's shield versus Luke Skywalker's lightsaber. But meanwhile, Esther would be listing the 10 best kinds of poisonous mushroom or something, and Robbie and George would be geeking out about whether a black hole could become a supercomputer, and Annalee would be throwing out crazy brilliant ideas every second. Each day, there were a million chats about everything from books to art to music to movies and TV.
But also, my most amazing conversations were with our readers—whatever random observations and bits of info we threw out there, our readers made 1000 times better. The kibbutzing in io9's comment sections felt like the best party ever, every single day. I can't possibly list every single io9 regular who made my forays into the comments better—there were so many supersmart, hilarious people, I often posted stuff on io9 just to have an excuse to geek out about it with my friends. As far as the one article I wrote that I'm still proudest of? Probably "What If Greedo Really Shot First?"