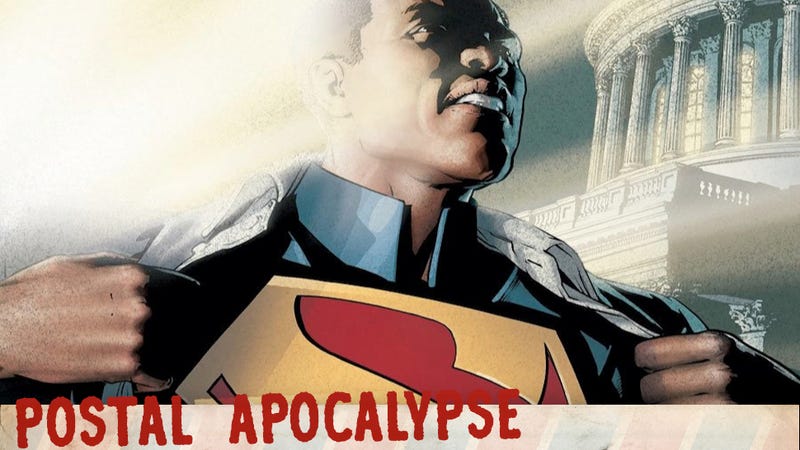 I hate to say it, but the Postman is bringing the controversy in this week's "Postal Apocalypse." Do you dare to find out the answer to this sensitive question: Does Doctor Who suck?
---
The New Black
Leslie S.:

Reading about the controversy about Game of Thrones casting an actor that does not exactly match some people's expectation of that character's race, I was suddenly struck by the question of whether there has ever been a version of Superman who was black? I mean, didn't we have Heimdall from the Thor franchise played by a black person and didn't some people seriously lose their shit over it? How much shit would be lost if Superman were ever a person of color?
To answer your first question, yes and no. Yes, we have had a black Superman, in the sense that we have Steel, who was one of the four Superman running around after Superman died. He has a lot of the same powers and wears the S and is part of the Supes family, although he's had jack to do in the New 52. But of course that's not Superman, per se.
Grant Morrison introduced a ton of "Supermen of the Muliverse" in Final Crisis, including Calvin Ellis, the black Superman of Earth-23 (that's him above). Whether you want to count him or not, he is definitely the one and only Superman of that universe, wears the traditional Superman outfit, and oh, he's the president, too. He shows up later in Morrison's Action Comics #9, so he wasn't just a one-off character, although lord knows if anyone besides Morrison will ever mention the character again.
People didn't lose their shit over this, but he's essentially an Elseworlds character that's had less than 10 pages of face time. So say DC started releasing a monthly comic about the adventures of this Superman. I think it would get a lot of press, and there'd be a few crazy racists decrying — something — but for the most part I don't think people would care.
Would casting a black man as Superman in a movie cause people to lose their shit? Absolutely. There's a lot of reasons for this, first and foremost because movies and TV shows are infinitely higher profile than comics; second, you can't get the public to understand what an "Elseworlds" tale is. Instead of hearing "This is a black Superman," all they'd hear is "Superman in now black." So generally people would see it as changing the character, not adding to the mythos, and that's how people get scandalized, I guess.
Look, Marc Bernadin said this better and more eloquently than I ever will in his awesome "The Last Thing Spider-Man Should Be Is Another White Guy" essay (on this very site, I might add!), but changing a character's race almost never matters. Sometimes — sometimes — it might clash with a character's origin, but as Bernadin points out, whiteness is not an essential part of Spider-Man's character at all. Nor is it Superman's, for that matter. Or Batman, or any of the X-Men, or Iron Man. Now, Captain America, part of his deal is that he was Hitler's blond-haired, blue-eyed Aryan ideal and still hated everything Hitler stood for, so changing his race does alter one aspect of the character. While some people might find that single aspect fundamental to Cap, others don't.