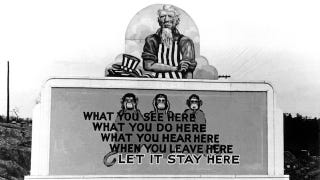 Here's a collection of rare historical photos from Oak Ridge, Tennessee, a town established by the Army Corps of Engineers in 1942 on an isolated farm. It was a secret location that became one of the most significant sites of the Manhattan Project.
Signs at Graphics Department, 1943-1944
Workers load uranium slugs into the X-10 Graphite Reactor's 44 by 44 feet (13.4 m) concrete face, 1943
(via Wikimedia Commons)
Barn being used for storage, 1943
"The Calutron Girls", Y-12, 1944
Billboards, 1943-1944
Post office at Christmas time, 1944
The Atom, 1945
Line for cigarettes at Williams Drug Store, Jackson Square, 1945
Entrance to K-25, an uranium enrichment facility, 1945
The Elza bridge, 1945
Welding, 1945
The Oak Ridge Swimming Pool, 1946
Oak Ridge National Laboratory, 1947
A.E.C. Girls Club, 1947
Oak Ridge Journal Staff, 1947
Santa Claus, 1947
Sports: Basketball and boxing, 1947
Aerial of Y-12, 1947
Wheat Cemetery & Church, 1948
Ogden Circle, 1948
Ed Westcott's Camera and Entry Pass, 1940s
Safety billboard, 1948
To Man and the Atom, an exhibition in 1948
Dagwood Splits The Atom, 1949
The whole book is available on Sparehed.