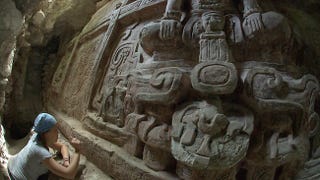 Archaeologists are calling it a "once-in-a-lifetime find" — a 1,400 year-old frieze vividly decorated with images of gods and rulers. Considered a work of art, the carving is shedding new light into this ancient culture.
The high-relief stucco sculpture was discovered last month by Guatemalan archeologist Francisco Estra-Bellie and his team from Tulane University's anthropology department.
They were exploring a Maya pyramid that dates to 590 A.D. in an area known to contain other ancient ruin sites. The pyramid is located near the town of Holmul in the Peten region of Guatemala, where Maya civilization thrived from around 800 B.C. to 850 A.D.