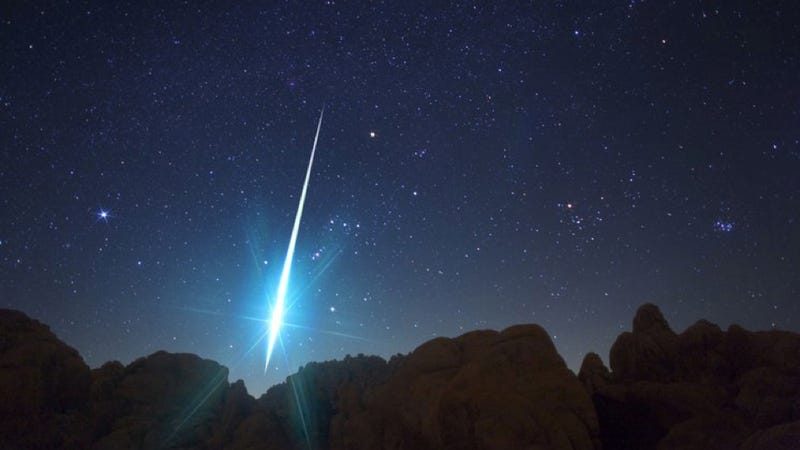 The Geminid meteor shower is consistently the most impressive celestial light show of the year. 2013's display peaks Friday night/Saturday morning, and while this year's shower will be competing with a fair bit of moonlight, it's still shaping up to be one hell of a show. Here's what you need to know to spot as many meteors as possible.
Pictured above: A massive Geminid fireball from 2009's shower, one of the brightest ever recorded. The Geminids are notorious for lasting several days (December 12–16) and being rich in uncommonly bright meteors) via NASA
Avoid light like the plague
We're talking all kinds of light. City lights, street lights, house lights, flashlights, any lights – this year, a bright waxing gibbous moon will already be giving off plenty of light as it is, so don't blow it by checking your indiglo watch out of habit, and DON'T LOOK AT YOUR PHONE. It is a well-known fact that backlit cellphone screens were put on this Earth to ruin meteor showers.
If you're in the country, go find a big open field. If you're in the city, get out if you can. If you can't get out, try to find a high point. These measures can make a HUGE difference. The pictures featured here compare the night sky as seen from two points in Utah located just 75 miles apart. The difference? The bottom photo was taken in a major metropolitan area, the top photo a rural town. (See more info here.) The Clear Sky Chart website has a great list of optimal viewing locations organized by state, so go check it out.