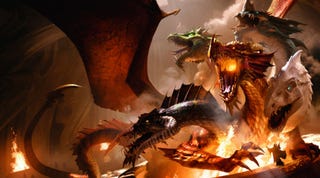 After a two-year development process, Wizards of the Coast has finally announced release dates for the new edition of Dungeons & Dragons. Don your scale mail +1 and memorize your Magic Missile spells — it's going to be a fun summer. Here's what you need to know to get ready.
It's Just Dungeons & Dragons
They aren't calling it D&DNext or Fifth Edition. The new book covers simply bear the Dungeons & Dragons title. They've created a new logo, as well — a simple font that lets your attention focus on the famous firebreathing ampersand. It's worth noting that, in the event listing for this year's Gen Con, events running this new edition did refer to it as 5E, which is really necessary to avoid confusion.