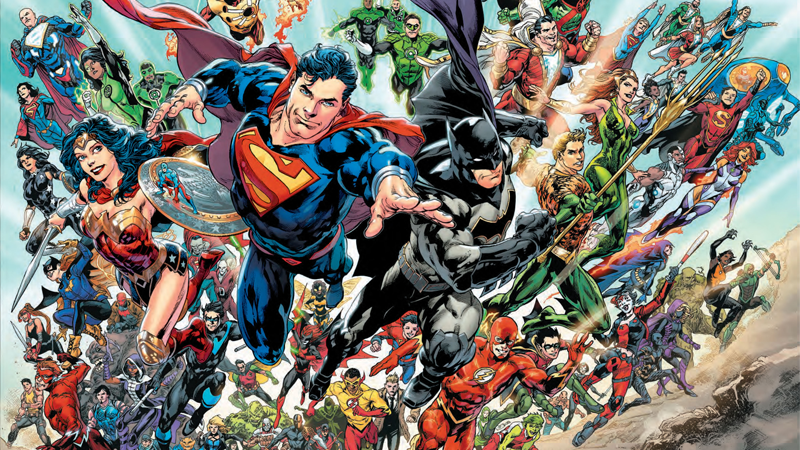 Today is the day! DC Rebirth #1 is out, and with it, a crazy new chapter begins in the annals of DC Comics' long and storied history. There's a lot of big teases in this huge 80-page special—we've read through the whole thing and broke down the biggest reveals, and what they might mean for DC's multiverse going forward.
Wally West Is One With the Speed Force...
DC heroes imbued with the Speed Force are really bad at dying. Wally West, the original Kid Flash who vanished when the New 52 was created at the climax of Flashpoint, is just the latest speedster not to have simply died like everyone thought, but to have become part of the same energy that gave him his superspeed powers, just as Barry Allen did before him.

Wally spends most of the issue as part of the Speed Force, attempting to warn his friends that something is horribly wrong. He's occasionally able to yank himself back into reality to appear to people he used to know: Batman, Johnny Thunder (an old school DC hero who was a member of the Justice Society), and eventually the love of his life, Linda Park. Sadly, Wally's time in the real world is short every time he appears, and none of the people he encounters with his warning can remember who he is.
...But Now He's Back
...except Barry. Wally visits his mentor and hero last—grief-stricken after Linda can't remember him—as a final goodbye before the Speed Force begins to consume him. Just as Wally says his farewell, Barry realizes who he is, a remembrance powerful enough that it doesn't just make Wally whole again but makes Barry begin to remember elements of the old Pre-52 universe, like the original Teen Titans and the events of Flashpoint (being the sad-sack he is, Barry immediately assumes it's all his fault).

But Wally's return also means there are now two Wally Wests in continuity: the original, and the young Wallace West, Wally's cousin, who has been Kid Flash in the New 52. Young Wally will continue to be Kid Flash in Damian Wayne's Teen Titans in Rebirth, while Older Wally will join the Titans (a.k.a the no-longer-teen Titans). Not as confusing as it sounds!
There Have Been Three Jokers
But let's make like a time-traveling speedster and rewind a little, because Wally's revival occurs quite a bit later on in Rebirth #1. While he attempts to break through to Bruce Wayne in the opening chapter of the issue, we learn something rather alarming. Batman is watching reports about Superman's sudden absence (more on that in a bit) when Alfred interrupts him with a chilling report: The Joker is loose in Civic City. But it's what Batman replies with that sets off alarm bells, as he tells Alfred that the Joker was caught in Baltimore, and is on his way to incarceration at Arkham. How can there be two Jokers at once?