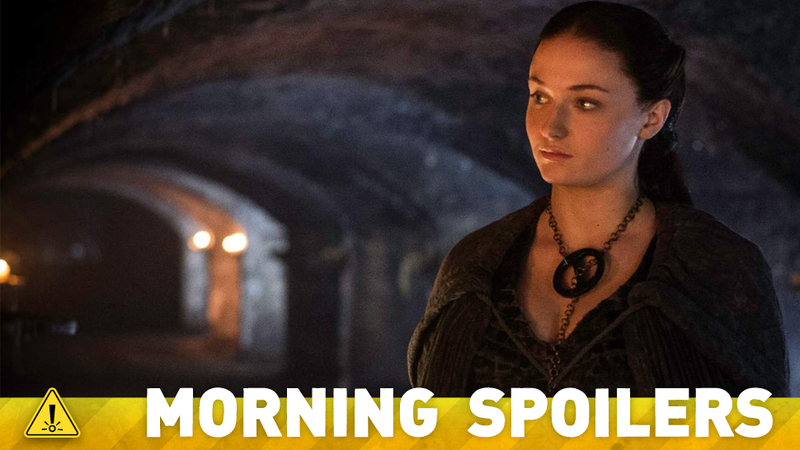 Will some people reunite in the next season of Game of Thrones? No, Amazon didn't accidentally reveal a Force Awakens character's surname. Steven Moffat and Peter Capaldi deny scary Doctor Who rumors. Plus, Superman returns to Supergirl, new Warcraft pictures, and Sam Mendes may leave James Bond. Spoilers!
Doctor Strange

A few more set photos from filming in Nepal have made their way to the Internet, giving us more of Benedict Cumberbatch's bearded Stephen Strange—and, surprisingly, Chiwetel Ejiofor's character: Baron Mordo, one of several villains rumored for the film. Check them out below.
---
Star Wars: The Force Awakens

A recent—and hilariously over-priced—Amazon marketplace listing for a puzzle featuring Finn has been driving speculation wild, as it describes the Puzzle as portraying... the son of Lando Calrissian. The assumption is that, as it is a product being sold directly by Amazon, the description was legitimate, accidentally revealing Finn's lineage.
However, the product isn't actually sold by Amazon, merely fulfilled by it: the description comes from a third party retailer, who likely added the description in an attempt to push the price up of the item (which usually retails for around $5-10) based on speculation that's all over the Internet. [Comic Book]
---
The Little Mermaid
Chloe Moretz has allegedly been cast in Universal's adaptation of the Hans Christian Andersen tale. [Coming Soon]
---
James Bond 25

Sam Mendes has said that SPECTRE will likely be his last involvement with the franchise:
A sense of completeness that wasn't there at the end of 'Skyfall', and that's what makes this feel different. It feels like there's a rightness to it, that I have finished a journey.
[Deadline]
---
Neon Demon

Here's the first picture from Nicolas Winding Refn's upcoming horror movie about a model whose vitality is stolen by soul-sucking L.A. fashionistas. [/Film]
---
Alice Through The Looking Glass
Here's a few new character portraits for the film—there's more at the link. [/Film]
---
Warcraft

Following the film's trailer debut at Blizzcon last week, Legendary has released a batch of new high-res pictures from the film—you can find a few more at the link. [Cosmic Book News]