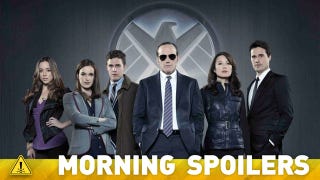 The next season of Doctor Who's taking its cues from the greatest era of the classic series. A loose end from Amazing Spider-Man is tied up. And Chris Pratt went to a lot of trouble to be cast in Guardians of the Galaxy. Plus new hints about Warcraft, Agents of SHIELD and more. Spoilers now!
Batman vs. Superman
It's not morning without some anonymously sourced casting rumors! The latest is that Terry O'Quinn, best known for playing Locke on Lost, is on the shortlist to play Lex Luthor. [Superman Super Site]
Producer Charles Roven says that the idea for the sequel's been around for a while, and that they have a first draft to work off of:
We had a sketch of an idea, the beats of a story that David Goyer worked on with Zack. We have a first draft, and we're continuing to work with it. Those scripts are never fully finished until the movie is in the theaters. We love the characters — we think that Ben (Affleck) is going to be a really great and interesting Batman.
He also has an answer to the question of "Why Ben Affleck? WHY?":
We wanted a guy who had a certain age and a certain gravitas to what he had done in terms of his recent work. If you take a look at 'The Town' and 'Argo,' he plays a couple of serious guys in those movies. He's a big man. He's also a mature man. As you see him and Henry together, one definitely has much more experience just by looking at him. That's what we wanted, particularly juxtaposed against our Superman.
---
Warcraft
Roven's also working on the Warcraft movie, and which is apparently getting all set to go in Vancouver:
I have a great partner in Alex Gartner, who's in Vancouver with our director Duncan Jones. I was there last week. I'm in an editing room on 'American Hustle' and in the production office in Pasadena on 'Batman' and flying up to Vancouver for 'Warcraft,' which will start in early January.
---
The Amazing Spider-Man 2
The viral tumblr The Daily Bugle has an article stating that the body of Dr. Rajit Ratha was found. The character, played by Irrfan Khan, had his death scene cut from the first Amazing Spider-Man, so this article may confirm that the deleted scene is still canon for the purposes of the sequel. [Slashfilm]
---
Guardians of the Galaxy
Chris Pratt really wanted to play Peter Quill, and he told The Huffington Post just how much he did to get the part:
For me it felt like a perfect fit right off the bat. I felt like at my very first audition that I nailed it, but, I was afraid that I wasn't physically right for it because I was still pretty big from this movie. And so I just thought, If they could just believe in me, then I can lose this weight, then I'll get this role. But I had a feeling it was a little too much weight to expect any person to lose — I was determined at that point. I was like, Well, you know what, if I'm not going to get this, that's fine. But no one is ever going to tell me that I'm too fat for a role again. I'm going to start getting in shape. So I started getting in shape right away. . . . Then, right at Jan 1st, I started working out. Then around the 15th, this audition came up. So I had lost probably 10 pounds ... but I was still around 280 and that's too big to be a Marvel character. But, it was in the audition. I mean, I knew he had my spirit — I knew that my spirit was right. And I knew it sounded right, I just didn't look right yet.
Pratt also said that the movie's got the balance of drama and humor that seems to be the goal of all the Marvel movies:
It should be really fun. I think it should be really fun. But, that being said, it takes the dramatic beats seriously. I men, it takes itself seriously when it needs to. Just as a whole it doesn't take itself too seriously. But, it definitely takes it's dramatic moments seriously. And the dramatic arcs and the bits of emotion that you're supposed to feel something that you're supposed to feel something that I think you really will. But, hopefully, it will be because it's anchored to this comedy. Like, to the comedy that lives in it. If you tie comedy and drama together, than you don't have to go as big to get laughs and you don't have to go as big to get a real emotional response.
[Huffington Post via Slashfilm]
---
Star Wars: Episode VII
Remember that production photo showing J.J. Abrams with R2-D2? The other guys in the photo are Lee Towersey and Oliver Steeples, members of the worldwide R2-D2 Builders Club, who have been hired to build astromech droids for Episode VII. This seems to confirm that Artoo, at least, will be in the sequel.