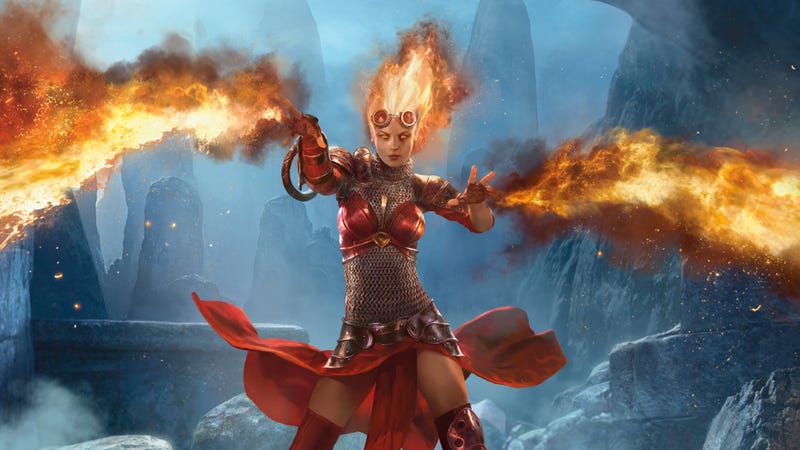 The annual refresh of the casual console version of Magic: The Gathering gets high marks for fun, well-constructed decks, but the highly anticipated sealed deck mode leaves a lot to be desired. It's still a great MtG fix for $10.
The core of the DotP experience is playing the game's built-in preconstructed decks, unlocking new cards as you move through the campaign or face off against friends or random online opponents. This core experience continues to improve. The in-game interface received a few welcome tweaks, like a single "Attack All" button that lets you send your entire force into the red zone at once. Actual game play works as smoothly as it ever did, so there weren't many problems to address here.
The decks are customizable, just as they've been for the last two editions. From the starting deck of 60 cards, you'll unlock 30 more, one for each game you win (there are 10 decks total). You can swap out some of the lesser "stock" cards for the upgrades you unlock, and you can even significantly change how the deck operates by carefully choosing which cards to include. This time around, you can even adjust the number and types of lands in your deck.
One of the biggest upgrades is the general quality of the preconstructed decks. The decks are simply better, using a wider variety of cards and offering quite a few fun deck building options. There's a strong tribal theme, with many of the decks focused on a specific creature type. For instance, Liliana Vess' deck, which in prior editions was sort of a generic black deck with some discard spells, is now a focused zombie theme deck that can generate truly hideous numbers of walking dead. And of course there's the Sliver Hive deck, which we debuted a few weeks ago. Another standout is a green ramp deck that lets you crank out tons of extra lands per turn, until you're ready to play some of Magic's biggest creatures, the powerful, otherwordly Eldrazi.