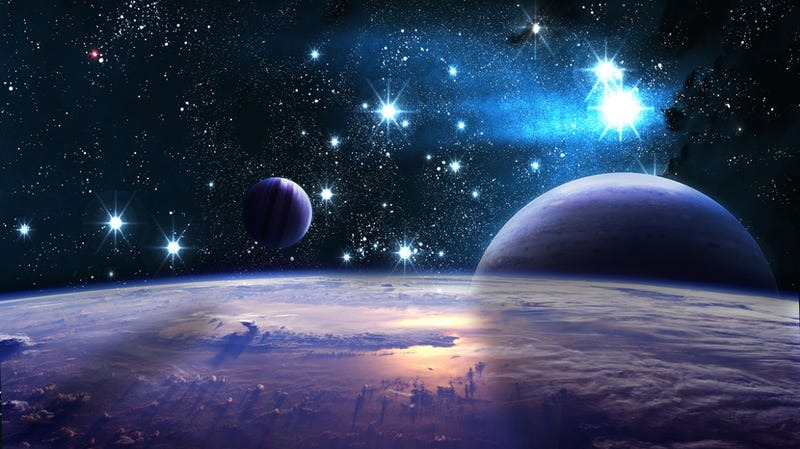 Our universe appears to be bound by a finite set of laws, yet we often talk about things that go on for an eternity. "Infinity" is a strange idea. But it's crucial if you want to understand anything from philosophy to mathematics. Here's why.
There are three broad domains where infinity can be applied. It's used as a conceptual tool to help us describe the properties and values of objects and processes, it's an important notion in philosophy, cosmology and metaphysics, and, of course, it's crucial to mathematics. Let's take a look at each of these in detail.
The Totality of Infinity
We often use the word 'infinity' when describing something that goes on forever. But it can also be used to describe something that doesn't go on forever, or for which its value is absolute.
Take, for example, the use of infinity in sports and gaming. As every chess player knows, each piece is assigned a numerical value according to its tactical importance and strength. These values range from one (pawns) to nine (the queen), and are often used to keep a kind of score as the game progresses. But the king is assigned infinite value — and for very good reason. Losing the king is fatal. It's instant game over, regardless of whatever else might be happening in the match. The king's worth, therefore, cannot be bound within a finite set of values.
Image: Shutterstock/18percentgrey.
Similarly, an overtime goal in hockey, or a 'golden goal' in soccer, can likewise be ascribed infinite value. Any situation in which a single goal causes the match to come to an immediate end, and along with it both instant victory and defeat, hinges on an absolutist event.
More importantly, philosophers, religious scholars, legal experts, and ethicists often assign an infinite value to human life. And indeed, as an enlightened society, we're appalled by the idea of attaching a price to such a thing. We simply cannot buy, sell, or trade each other. Of course, this doesn't always work in practice. During war, human lives are sacrificed to protect the larger body of citizens and to uphold certain values and institutions. And illicit human trafficking is an ongoing problem. But at a conceptual level, and as many religious thinkers argue (especially Christians), there is no price high enough to allow for the 'buying' of human life, and there's no situation grave enough to warrant killing (i.e. Thou shalt not kill); only God has the power — and the right — to take away the gift of life.
And therein lies another kind of infinity: death. Assuming that nothing awaits us in the afterlife, the termination of our lives represents a kind of eternity. It's an eternity of nothingness, but an eternity nonetheless.
Infinite In All Directions
But while infinity can be used as a helpful conceptual tool, it's also something that may be physically, tangibly real — especially when considering some of the freakier aspects of philosophy, cosmology and metaphysics.