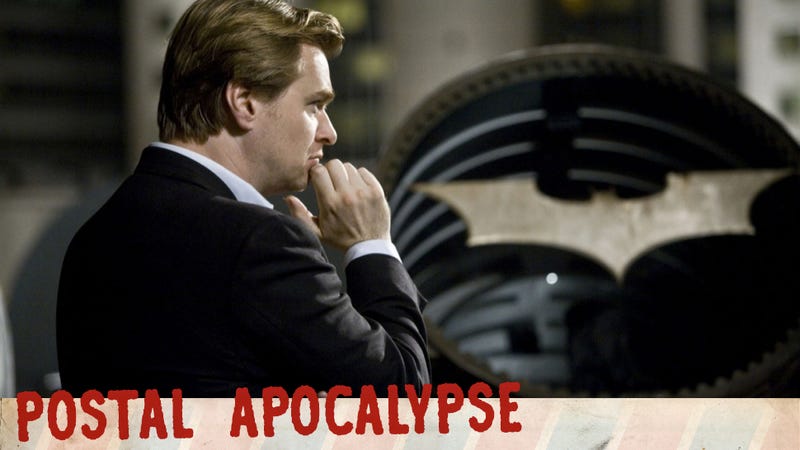 Don't worry, I'm not getting into another Man of Steel tirade in this week's "Postal Apocalypse" — now I'm getting into a tirade about whether the entire DC universe is safe in Christopher Nolan's hands. It's marginally different! Plus Defiance, future sports, vampire cyborgs, and more!
---
Nolan No More?
Eric W.:

Post-apocalyptic Postman Rob,

After seeing the abomination of a Superman movie Man of Steel turned out to be, I started thinking about this... Does DC have a Chris Nolan problem?

Obviously, from a financial standpoint they don't, he's behind films that have raised what, a billion or two dollars, but on a deeper level, I'm not so sure.

This man has given us a Batman who turns out to be a compulsive quitter of all things, and now, with the help of Zach Snyder, has given us a muddled, hollow Superman who doesn't seem to care about collateral damage, acts rashly and flat out executes his enemies.

At first I wondered if he didn't understand the characters, but I'm more convinced at this point that he just really doesn't like them, or comics in general. I feel like he has ideas about movies he wants to make, but can only get them green-lit if he wraps them around a known property, so instead of getting a real Batman or Superman story we get "Nolan and Snyder's Poorly Thought Out Sci-fi Schlockfest" hastily retitled "Man of Steel".

I feel like that's the big difference between the Marvel and DC cinematic universes. Say what you will about Joss Whedon, but the man really seems to love comics, and the characters in them, and it shows in the products hitting theaters. Nolan, on the other hands, seems more like he resents the properties he is adapting, and that too is coming across.

What do you think, is it as simple as all that, or am I laying blame in the wrong place here?
I think you're exactly right when you say "DC has a Chris Nolan" problem (Zack Snyder is his own issue, which Charlie Jane covers perfectly here). Chris Nolan's Batman films have made a ton of money, and everyone else who tried to make DC superhero movies has failed, so it makes sense that WB/DC would put him in charge of their DC cinematic universe. But — in my opinion — what they fail to realize is that Nolan's "vision" only works for Batman. Nolan likes gritty, realistic films, even if they have fantastic elements in them, like The Prestige and Inception. This works well for the non-superpowered Batman, who is the most realistic character of the DC universe, but it's a disaster for everybody else.