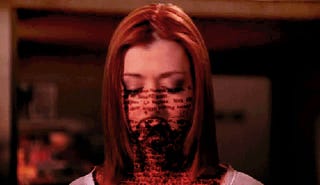 And I'm not talking about paper versus digital. I'm talking about curling up with a good book, for hours. Sitting in a hammock, or in a chair by the fire, just totally pulled into a book. Is the long, totally focused book-reading session a thing of the past — and does this mean we're getting less immersed in our stories?
Top image: Buffy the Vampire Slayer.
We've never had more distractions keeping us from focusing totally on a book as we have today — in fact, sometimes it feels like half the non-fiction books published in a given week are bemoaning how distracted and overwhelmed with input we all are nowadays. But there are also plenty of signs that the way we're reading books is changing. Not because of e-books, per se — e-book readers do a good job of replicating the experience of reading a book on paper — but because our lives and relationships with technology are changing.