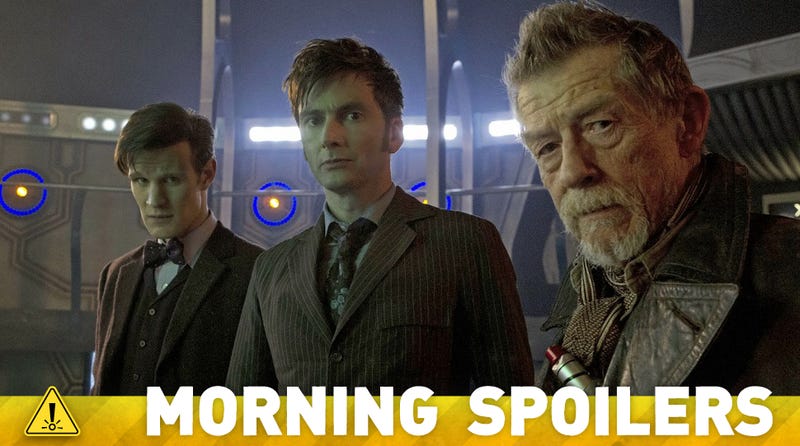 Reviewers mostly agree on Thor: The Dark World's weak point... and everyone wonders, will Joss Whedon be back for Avengers 3? There are a lot of fanboy characters on Arrow. Plus, Paul McGann believes the eighth Doctor could return, even though he's going to be missing from the anniversary special. Spoilers now!
Thor: The Dark World
With the premiere in London already a few days past, comes the deluge of reviews. The plot revolves around "the Aether," another one of the super-powerful McGuffins that litter the multiverse. In his battle with the Dark Elves, Thor's grandfather hid it somewhere. It resurfaces, just as "the Convergence" makes Bifrostless travel between realms possible. The evil who wants it is the dark elf Malekith the Accursed.
The reviews all tend to praise the humor, the look of Asagard, and Tom Hiddleston's performance as Loki. The reviews also generally find Christopher Eccleston's Malekith to be the weakest part, with some writers wondering if there were cuts that shouldn't have been made. Some reviewers like Loki so much, they think he's not in the film enough. The tone of the film compares favorably to the first Thor, but opinion is mixed on how it compares to Iron Man 3. Some writers like that it's more removed from The Avengers than the third Tony Stark outing, while others find it missing the weight of that film. [Bleeding Cool, IGN, Telegraph, Variety, Hollywood Reporter, Indiewire, Sci Fi Now, and Slashfilm]
Also, if you were wondering, Chris Hemsworth's contracted for at least one more Thor and two more Avengers films. [Access Hollywood]
---
The Hobbit: The Desolation of Smaug
Peter Jackson said that, after The Hobbit is complete, he wants to go back to making films more like his early Heavenly Creatures. He also described Smaug:
Smaug is not Jaws or a monster. Smaug is a psychopath. Smaug is literally a cunning, intelligent psychopath who is laying in wait for these guys.
---
Captain America: The Winter Soldier
Below are two new images (and a teaser for a trailer) for the next Captain America film. [First Showing]
---
Avengers 3
Yes, Avengers 3. With people already demanding to know whether Joss Whedon's locked in to complete a trilogy, Kevin Feige deflected, saying:

It's still being determined. All of his efforts right now are in what he's doing for us primarily, obviously, writing and prepping Age of Ultron but also in reading the drafts of the films in phase 2, watching early cuts to inform him where the characters are going to end up in the beginning of Age of Ultron and also to get his input and his wisdom into all of these. But right now it's all about leading up to Age of Ultron.
---
Black Panther
On the other hand, Feige says a Black Panther movie is coming:
In terms of Black Panther, it's absolutely in development. When you have something as rich as Wakanda and his backstory — and clearly Vibranium's been introduced in the universe already — I don't know when it will be exactly, but we certainly have plans to bring him to life some day.
---
Transformers 4: Age of Extinction
Yesterday, rumor had it that Li Bingbing's role may be that of Circuit Breaker. Today, there's a new photo of her on set. [Comic Book Movie]
---
Arrow
Stephen Amell described the Barry Allen we'll soon be seeing:
It's great because he's a fan of the vigilante, and he gets to ask a lot of questions, that I know for a fact because I see it on Facebook and Twitter, that the audience would like to ask. You know, he has theories about how the vigilante was trained, and he's speaking for/as a fanboy—he's speaking for a lot of the fans of the show.
Colton Haynes explained what Roy's training will look like this season:
He's fan-boying over the Hood for sure. He looks at the Hood as a savior; someone that can save him from the trouble he's been going through in his life and someone who can lead him in a direction of being a hero as opposed to being the lost kid who is just getting into trouble all the time.

That really starts pissing Roy off. He's thinking he's going to team up with him right away, but he's just feeding him information here and there. Throughout the season, Roy starts to get a little irritated for that and fed up, so he might be looking on his own for other clues behind Arrow's back.

He will definitely get training from the Hood, but whether or not Roy is going to be able to do the things Oliver has done right away is going to be tricky. Roy is expecting to be part of the team right away, but it's a long, drawn-out process that's going to drive Roy a little mad. [It's] going to drive him to be really angry at Oliver, and decide if he wants to forget his plan altogether and just go his own route.
More at the link. [TV Guide]
In casting news, Sean Maher will appear in the tenth episode of the season as Mark Scheffer, aka supervillain Shrapnel. He'll be going after Sebastian Blood. [Coming Soon]
---
Agents of SHIELD
The actors behind FitzSimmons, Ian De Caestecker and Elizabeth Henstridge, and Marvel TV head, Jeph Loeb spoke about the chemistry between FitzSimmons and if there are any plans to expand to other spinoffs:
Henstridge: We got on from the start.

De Castecker: A lot of it comes down to the writing. And the producers are all so great. Honestly, a lot of it really is in the writing. … A lot of our work is really done for us. It's really great that we get on so well, as well as everyone in the cast. But, you know, a lot of it's really there in the scripts so we kind of use that as a very strong framework.

Loeb: Right now what we're focused on is making the show the best that it can be," said Loeb. "We have anamazing writing staff and executive producers led by Jeffrey Bell and Jed Whedon and Maurissa Tancharoen. And then of course Joss. Gary Brown who is our line producer. It's just an incredible group of people. But you never want to rest on your laurels and you want to make sure the show keeps getting better and better. Anytime someone starts talking about, "Okay, what's the next thing?" — We really do look to the movie studio for inspiration and they made "Iron Man," and then they made "Iron Man 2," and then when they decided to make "Thor" and "Captain America" — to make two movies in one year is literally doubling their output in a year and so that's a huge undertaking. That doesn't mean that we night not have some surprise announcement soon, really right now we're focused on making sure that "S.H.I.E.L.D." is up and ready and going.
Here's the promo for episode six, "FZZT":
Go here for a complete set of photos from "FZZT." [SpoilerTV]