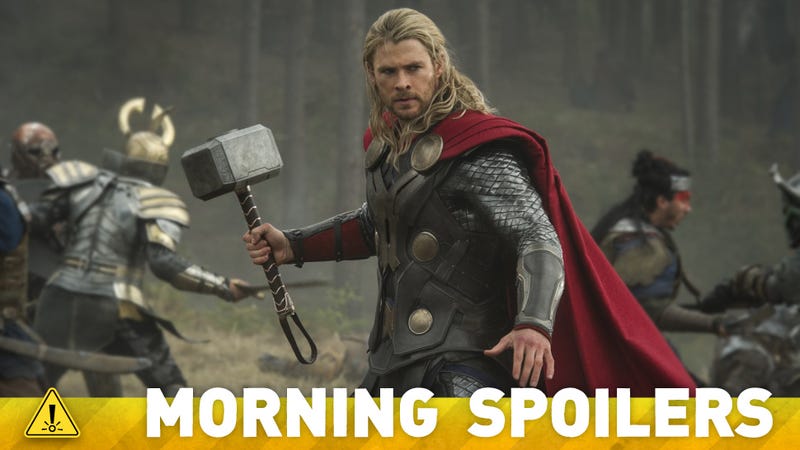 We've got casting news for Game of Thrones and Poltergeist, Meryl Streep rocking her witch costume for Into the Woods, and a ton of information from the creators of Once Upon a Time. Plus, is Warner Bros. preparing a bunch more Potterverse movies? Spoilers ahead!
Thor 3
Yes, even though Thor: The Dark World isn't even out yet, we've already got some rumors for the next one. Speaking with Total Film, Tom Hiddleston said he's pitching Amora, also known as "The Enchantress," as the next villain:
When I was first reading the comics, the relationship with the Enchantress was one of the really fun things I thought would be good to explore and may have even pitched it to [Marvel Studios president] Kevin Feige at some point. Because she is as sneaky and as untrustworthy as he was.

...

They basically had a really fantastic and twisted relationship until they both say, 'You know what? I don't trust you as far as I can throw you. It's over.' Because they keep betraying each other, in a way. So it could be good.
---
Harry Potter
Following the announcement of Fantastic Beasts and Where to Find Them, Warner Bros. has trademarked every trademarkable thing for the upcoming movie. They've also trademarked the other books, Quidditch Through the Ages and Tales of Beedle the Bard. Are they making those books into films, too, or just covering their bases? Wildly speculate in the comments!

---
Gravity
New TV spot, because you need to be a little on edge today:
---
Into the Woods
Set photos show Chris Pine and Anna Kendrick as Prince Charming and Cinderella.
And the first official look at Meryl Streep's witch:
---
Paranormal Activity 5
We're still a year and change out from this, but it's going to be a spinoff directed by the editor of the rest of the franchise, Gregory Plotkin. As for the plot, apparently it'll involve, somehow, the after-credits scene of the "Marked Ones" from Paranormal Activity 4.
[MTV]
---
Maggie
Maggie is a zombie film/family drama that shows a farm family helping their eldest daughter deal with her transformation into a zombie. It stars Abigail Breslin, and features, according to the photo he tweeted, Arnold Schwarzenegger. Here's the photo, with director Henry Hobson, Breslin, and Schwarzenegger:
---
Poltergeist
Added to the cast is Saxon Sharbino (Touch). She'll play Kedra Bowen, the eldest of three children. Jane Adams has also joined the film as a parapsychologist.
---
Arrow
Dylan Neal will play Dr. Anthony Ivo and show up in island flashbacks. In this incarnation, he'll be a brutal and ruthless scientist obsessed with rediscovering a breakthrough from the end of World War II.
---
Game of Thrones
Head over here to see all the behind-the-scenes photos from season 4, but here's a few to whet your appetite: