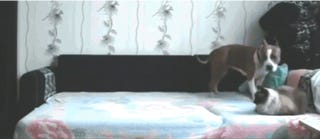 How anyone can watch this video and not be convinced that dogs experience complex emotions is beyond me.
The video, which is currently flirting with pole position on the front page of reddit, shows a pitbull having the time of its life on a bed that is usually off-limits. Its owners aren't home, but they've set up a "hidden"camera to see how well-behaved the dog is when they're away.
That the dog approaches the bed so cautiously would certainly suggest that it knows what it's doing is against the rules. It wants up, but knows that, in the presence of its owners, at least, it is not allowed to. But the coast is clear. The dog hops up anyway, and proceeds to absolutely go to town, exhibiting a joie de vivre that defies anyone to assert, as French philosopher René Descarte once did, that dogs are merely machines.
As psychologist Stanley Coren notes in an article at Psychology Today, our understanding of canine emotions has come a long way since Descarte: