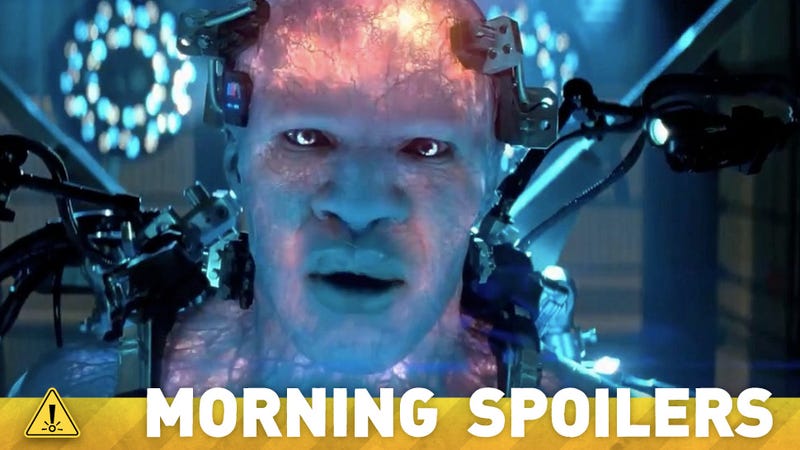 Phillip Seymour Hoffman won't be recast for the Hunger Games movies. Danai Gurira outlines the dilemma Michonne will face when The Walking Dead returns. And some important Doctor Who shoe news! Plus, get a look at new photos from Captain America: The Winter Soldier. Spoilers now!
Amazing Spider-Man 2
A tweet from Marc Webb seems to have revealed that B.J. Novak (The Office) will be playing Alistair Smythe, aka Ultimate Spider-Slayer, in Amazing Spider-Man 2. Webb tweeted a link to Novak's book promo and identified him as "A. Smythe." The Daily Bugle tumblr has hinted at the Smythes and their Spider-Slayers in a post identifying Alastair's father Spencer Smythe as the head of Oscorp's R&D.
Novak did say that his character worked at Oscorp and was a comics character, so this fits. Novak also said he was only in a few scenes, so at least we can hope Smythe's inclusion is setting up the future rather than adding another villain to this already full sequel. [Coming Soon]
---
The Hunger Games: Mockingjay
Phillip Seymour Hoffman's tragic death won't cause his part to be recast. Variety reports that he had finished all but seven days of filming. Since both Mockingjay Part 1 and 2 are being filmed back-to-back, this means that almost all of Hoffman's scenes as Plutarch Heavensbee have been completed. Both films will be released as planned, and will have Hoffman's performance in them. [Variety via Slashfilm]
---
The Breach
David S. Goyer's been hired to direct a film-adaptation of Patrick Lee's novel The Breach for Lionsgate. Lorenzo di Bonaventura is producing, with Justin Rhodes writing the screenplay. Here's the official description of the book:
Travis Chase, a man putting his life back together after fifteen years in prison, takes a solo hike into the Alaskan Rockies. He's just looking for a quiet place to think about his future, but what he finds is trouble: a 747, downed in remote wilderness, the wreck impossibly undiscovered by authorities. Those aboard are dead, though not because of the crash. They've been shot.

This aircraft, along with the terrifying object it was transporting, is only the beginning for Travis. Within hours he finds himself at the center of a violent conflict that spans the globe, and a secret war that dates back three decades. A war for possession of radically advanced technology—that wasn't created by human hands.
---
Transformers 4: Age of Extinction
A tweet from Reno Wilson suggest that Brains will return in the fourth Transformers movie:
Just finished a v.o. session for Michael Bay, who is a genius! Each one better than the last! #Transformers4 #Brains
[Transformers Live Action Movie Blog]
---
Captain America: The Winter Soldier
Go here for more photos from the sequel, including a look at Cobie Smulders in uniform as Maria Hill. [Comic Book Resources]