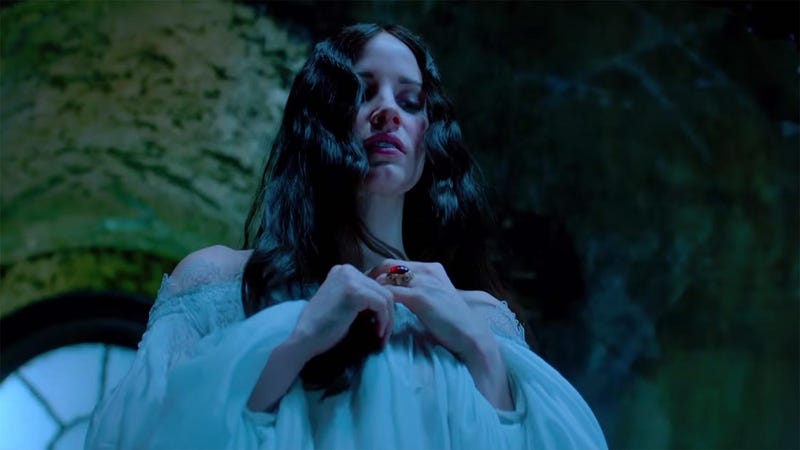 Some people loved Guillermo del Toro's gothic confection Crimson Peak. Some people found it disappointing. But the overall consensus seems to be that Crimson Peak not only wasn't scary, but didn't have a twisty enough storyline. But maybe everybody missed the huge twist at the end of the film?
Huge spoilers ahead...
The basic plot of Crimson Peak is, indeed, very simple. Edith Cushing (Mia Wasikowska) marries Thomas Sharpe (Tom Hiddleston) and goes to live in his decaying family mansion in bleakest blighty, a place where even the ground bleeds. But soon Edith realizes she's made a mistake. Thomas and his sister Lucille (Jessica Chastain) have murdered all of Thomas' previous wives, and she's next. The plot is basically Edith surviving, along with Thomas having a slight change of heart.
The big innovation in Crimson Peak, other than its insane visuals, is how it uses the supernatural. The movie is full of ghosts, but they're entirely benevolent—or at least, they're entirely on Edith's side. Edith, from childhood, has had the power to see ghosts, including her own dead mother, and when she gets to Allerdale Hall, she's able to see all of the ghosts in the house, including Thomas and Lucille's mother, but also all of their victims.