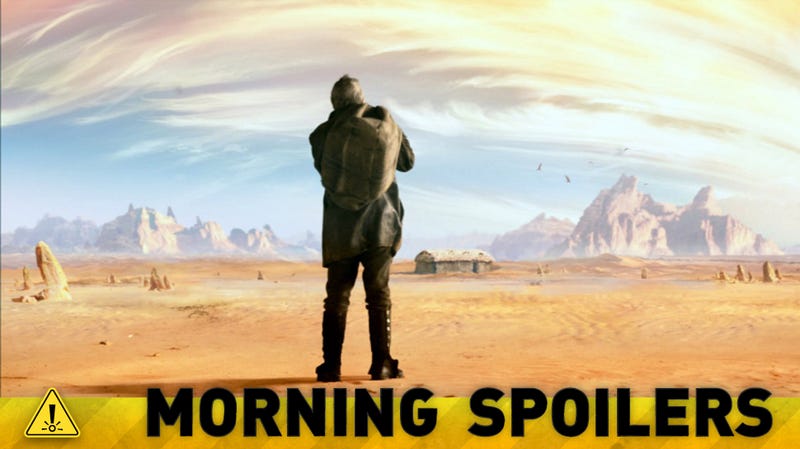 Doctor Who's reveals a huge number of hi-res photos, Samuel L. Jackson wants in on the next Star Wars movie, and Kevin Feige says we may have to wait a while to see Loki again. Plus, there's a ton of rumors from Batman vs. Superman, including a possible new female cast member and a possible CW crossover.
Top image: Doctor Who
---
Star Wars
Speaking to David Letterman, Samuel L. Jackson spoke a little bit about the next Star Wars and his idea:
I went to London to start another film, and I'm in the film with Mark Hamill so I asked Mark if he'd heard from J.J. Abrams, and he said: 'No'. Then all of a sudden Ewan [McGreggor] was there and I spoke to him on the phone and asked if he was there doing 'Star Wars' and he said: 'No, they didn't call me."

So I was thinking maybe all three of us should get together and just and go over to the 'Star Wars' set one day and just stand around and see if maybe they could use some old Jedi.
A lot of the rumors up til now have been pretty clear on Mark Hamill, at least, being asked to return. So either Jackson's embellishing his story for comedic effect, Hamill actually isn't involved, or (most likely, in my opinion) Hamill meant that he hadn't heard anything after the initial discussion. [Yahoo!]
---
Marvel Phase 3
Marvel Studios head Kevin Feige was on hand to discuss how Thor: The Dark World set up Avengers: Age of Ultron:
Well if you're just talking about how that [Thor deciding not to be king of Asgard] sets up into Avengers [Age of Ultron], yes — it was not in the Avengers storyline that we are putting together for the next one. It would not have been appropriate for Thor to not be there and to be on a throne in Asgard. But from the beginning of the first film, that had always been his destiny. It may one day be his destiny again, but for the time being we want to free him up from that. And Joss [Whedon] was a part of those discussions as we were figuring that out.
He also said that they're trying not to have an Earth-ending threat in every movie, but that there's a reason that the threats in the standalone movies don't require all the Avengers and Ultron does:
I don't think it's going to be about saving the universe every time. We've said that. It's not about saving planet Earth every time. It might be many times, but the threat that Ultron brings is certainly worthy of all the Avengers needing to come together and also the timing does play a large part of that. When you see a threat coming you have more time to assemble. There's not a whole lot more I can say on that.
Feige also answered the question on the mind of many a fan: When will we see Loki again?
Yeah, I don't think it would be before Thor 3 if there is a Thor 3 and while we certainly have ideas of where we would like that to go, there are no specifics. We have to see how this one does and then go from there. But I like… Clearly I like the notion that some people think he might die in this movie. That works to our advantage. I wouldn't spoil that necessarily, but I do like that afterwards people can, and there will be references… There are no specific plans, but if in specific movies somebody references Odin, that means that something else is going on up there, which I think is cool.
---
Batman vs. Superman
Despite earlier rumors, Adam Driver's denied that he's playing Nightwing, saying:
No. Not that I know of, no. If you find out, let me know, then I'll know.

That's like intensely flattering as you can imagine. I mean, it's Batman and Superman, who doesn't want to be involved in something not only of that scale but of who those characters are. That's an incredible world to be able to be in for a bit. Like who wouldn't want to do that?
[Collider]
In a similar vein, we have rumored Wonder Woman Jamie Alexander saying to Jay Leno:
It would definitely be a cool job. I was a huge fan growing up, not just [of] the show, but the comic books too.
See the video for yourself below. [Comic Book Resources]
Comic Book Movie has a source that says that not only will the Man of Steel sequel have Wonder Woman (not in costume), but will also connect the cinematic DC universe with the small screen one. The source reports that Warner Brothers wants Grant Gustin to cameo as Barry Allen, so long as fans like him when he shows up in Arrow.
The report also includes information that has Lex Luthor caring less about Superman as an impediment to his business dealings, and worrying more about the idea that Superman is just bad for humankind in general. Word is that he'll resemble the Luthor from Grant Morrison's All-Star Superman. He's also going to be the good guy "pride of Metropolis" when he shows up. The report further goes on to say that Luthor will be interested in "fringe" science, and be pushing his scientists to recreate the Kryptonian armor from the first movie.
Finally, it's said that a) Batman's love interest will be serious and will know his secret identity and b) Warner Bros. wants to cast an African-American in the role. [Comic Book Resources]
In giant grain of salt land, Latino Review's El Mayimbe tweeted that Gal Gadot was the "front runner" for a "female role." What role that is remains to be seen. Major grain of salt required, as always. [K Pop Starz]
A tweet from Warner Bros. producer Daniel Alter seems to indicate that the sequel will be influenced by the graphic novel Kingdom Come:
Can't wait for #BatmanvsSuperman.. #batfleck semi-retired/not speaking to Robin anymore.. Controlling drones from the batcave.
Between that, the comment that Luthor's coming from All-Star Superman, and the reported continuing influence of Frank Miller's The Dark Knight, this movie sounds like it's going to be a veritable stew of comic influences. [Sci Fi Now]
---
Divergent
Following the release of the trailer, director Neil Burger gave a commentary on it to MTV. He pretty much explained the importance of scenes to the greater plot, like the famous knife-throwing scene:
[Training in Dauntless is like] being in the Marines, times 10. They shoot, they fight, they throw knives.

She stands up for a friend, and she's basically punished by having to stand in front of a target and have Four throw these knives at her. And he can't play it safe, or else he's gonna give himself away. So he actually ends up cutting her with the knife.

He takes his shirt off and he shows this intense tattoo that he has, which in a way represents all five personalities and more.
More at the link. [MTV]
---
Warcraft
Colin Farrell's read the script, loved it, and has no idea if he's going to be in it:
Don't know what's happening, man. I read the script, if that's any use to you, and it's amazing....Duncan was cool. I sat with Duncan for awhile and read the script, loved the script, and we was as cool as can be. I don't know what's happening with the film. I don't know where they are in the process...It's just a world that I never explored — and it's a really big and fantastical world. I can't imagine what he, being as visually gifted as he is, Duncan, and what he did on Moon with, like, a dime, I can't imagine what he'd do with this Warcraft.

Can I? I probably shouldn't. I don't even know, actually, I'll just say that! I don't even know. We were just talking, and Duncan just said, "There might be something in it for you!" And I said, "Catering?"
[IGN]
---
Wolverine
Hugh Jackman revealed that, yes, he's been hearing things about the future of Wolverine, but, no, he's not committing yet:
I was on the phone with Jim Mangold last night. There are some really cool ideas that I'm dying to tell you, but that would be giving away a secret that is not even [fully] formed yet. [...] I do want to do it with Jim and with [producer] Lauren Shuler-Donner because we had such a great experience. I'm really proud of The Wolverine.

OI don't want to dive into another one until we have a compelling reason to do another one. I love the character, he's kind of like a best friend to me, and I don't ever want to take [him] or the fans for granted. … I think we've got a great opportunity to make something really cool, but it has to be great. That's what we're all working toward.
[EW]
---
Chappie
In the same interview, Jackman says Neill Blomkamp's next movie has "a very, very, very good script — very interesting," and that "it's going to surprise people in a lot of ways. He's a real visionary." He also said his character is named Vincent, and he squares off with Dev Patel's Deon. [EW]
---
Fantastic Four
A Reddit user posted that they'd received word that their apartment in Baton Rouge, Louisiana might be used for filming. So we at least know the general area that the reboot could be filming in. [Coming Soon]
---
The Hunger Games: Catching Fire
Here's a brand new clip:
---
Game of Thrones
The official production diary featured an entry that went into detail of the filming of the Purple Wedding, where Joffrey weds Margaery:
While the ceremony itself was filmed in one of our semi-permanent sets in Belfast, the Sept of Baelor, the reception was filmed in a beautiful outdoor set located in Parc Gradac in Dubrovnik, Croatia. The park was transformed by our new Production Designer, Deb Riley, and her team into everything you might desire from a Royal Wedding carnival, with elaborate decorations, an epic feast and the most creative and unexpected forms of entertainment for the guests.

Filmed over a five day stretch, we waited with bated breath each day for the clouds to roll in and dampen our fun. Weather reports suggested imminent downpours at the end of the week, and only a few days before, water funnels had formed off the coast in the height of a rain storm. Aside from one short and dramatic burst where Costume scrambled to get all the extras under cover and everyone rushed to protect props, we were spared the worst of the predictions.

In terms of principal cast members in attendance, the Royal Wedding was one of the largest scenes we've filmed since the premiere season, with 23 named parts appearing on any given day. In addition, we were delighted to welcome 218 extras as guests to the event, some of them travelling from the other side of Europe and the United States to be a part of the experience. Lookout for some familiar faces in the crowds – Pixie Le Knot is back this year, and one of our crew makes an appearance with the entertainers.
As one commenter on that post says, no doubt "Joff and Marge will have many happy years ruling the kingdom." [Making Game of Thrones]
---
Doctor Who
We've heard Steven Moffat express this sentiment before, but it's becoming increasingly clear that "Day of the Doctor" is going to momentous:
I think you could argue it's the most important thing that ever happens to him. It's the day, the day of his life. He'll never ever forget this one, he'll never be the same again. The very rare occasions when you say the Doctor will actually not be the same again. Yes, it will redefine him.
Go here for the mother lode of "Day of the Doctor" images. Seriously, there's a lot.