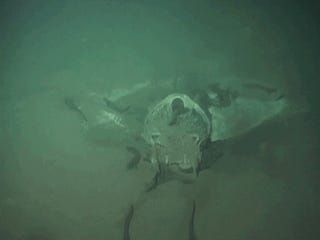 The unexpected discovery of four unique deep sea fish-falls off the coast of Angola has revealed a feeding ecosystem considerably different than those typically associated with large animal carcasses.
Without sunlight, most creatures in the deep ocean are dependant on detritus from the surface as their primary source of food, such as dead plankton and fecal pellets produced by zooplankton. But every once in a while, the remains of large sea creatures sink to the bottom, offering a veritable bonanza for those animals who are ready to take full advantage.
A Shark and Three Rays
But natural fish-falls are rarely observed by marine biologists. So it was to the great fortune of Nicholas Higgs and his team the University of Plymouth's Marine Institute when a remotely operated vehicle (ROV) run by the oil and gas industry stumbled upon four deep-sea fish falls. Using its onboard camera, the ROV captured video footage of a whale shark (Rhincodon typus) and three mobulid rays (genus Mobula).
Observations showed that these carcasses can support scavenger communities on the deep sea floor for weeks to months at a time. But unlike larger marine mammal carcasses, these sites were unique in that they didn't appear to host characteristic "whale-fall" creatures. Normally, whale-falls are home to sharks, crabs, and shrimp-like amphipods (aka zombie worms).