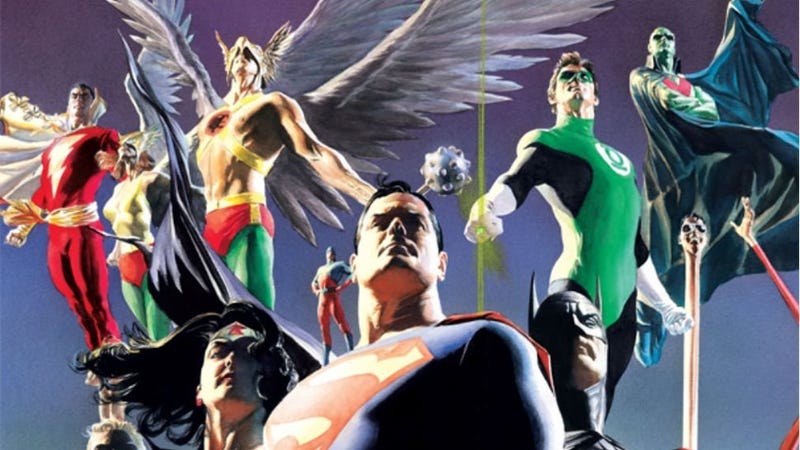 The four books that comprise the DC Adventures RPG present you not only with a tried and tested superhero RPG, but also an incredibly deep roster of DC characters and the most comprehensive overview of the DC universe I've ever seen.
DC Adventures doesn't try to reinvent the wheel. It uses the Mutants & Masterminds Third Edition RPG system, which is itself based on 3rd edition D&D's Open Gaming License. That heritage means the basic mechanics of the game will be instantly familiar to new players. You have attributes and skills, you roll a D20 to try and hit a target number, and that's how you know if you succeed or fail.
Mutants & Masterminds has never been slavishly faithful to the D20 rules (indeed, it never bore the official D20 logo, only the OGL license), and the changes made to the system nullify many of the problems with D20 that might otherwise render it unsuitable for a superhero game. When I spoke with president of Green Ronin publishing Chris Pramas, he told me that during development, designer Steve Kenson would find places where he wanted to alter the rules to better fit the superhero theme. In all cases, Pramas said, using the better rule for the theme took precedence over any kind of strict interpretation of D20. They took a reliable old engine and rebuilt it for a specific purpose, with all the horsepower upgrades one might expect.
What does this mean to the average gamer? DC Adventures/Mutants & Masterminds deviates from D20 in some pretty major ways. Attributes like strength and intelligence range from -5 to 20 instead of 3 to 18. There are no character classes or attacks of opportunity. Instead of experience points and levels, players gain Power Points which they can spend to improve their character's abilities.
The use of Power Points is a good example of Mutants & Masterminds using tried and true RPG mechanics when needed. Most superhero RPGs use a point buy system for character creation because it lets you tailor your adventures to a specific sub-genre. Gritty street level brawlers are built with fewer points than heroes who wield the cosmic power of a thousand suns, and you can match the power level of villains to that of your players. Using a familiar mechanic like this is nothing to criticize – building off of things that have worked in the past is just good game design.
Hero Points are another "borrowed" rule, similar to Edge points in Shadowrun. These can be spent by players to achieve unlikely results, counter the villains' attacks, or have just the right gadget at just the right time. The example given in the text is of a hero in a lab battling a plant villain. Does the lab have the chemicals needed to mix up some defoliant to defeat the villain? Of course the game master hasn't planned this out ahead of time, but if the heroes spend a Hero Point, then the answer is yes! Players "earn" Hero Points when the GM uses one or more of the complications built into the character, like a secret identity, a strict "death before dishonor" ethos, or maybe a gay marriage. Those are great mechanics for tying story directly into the rules.