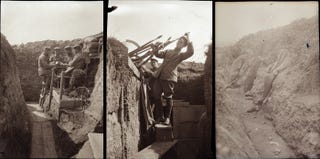 Requesting information through the Freedom of Information Act isn't always simple, but a group of investigative journalists are making the process more accessible than ever. And one fellow is looking to share his German great-grandfather's WWI photos with the world.
Dean Putney has an amazing trove of photographs from World War I, a collection thousands of pictures taken by his great-grandfather Walter Koessler and stereograms from the war. Hoping to share these unique images, Putney is putting together a book of the photographs. For an $8 pledge, backers receive a PDF of the book. For a $25 pledge, they'll receive high resolution downloads of each page of the album. For an $89 pledge, they'll receive a hardcover copy of the book, plus a print from the album, a PDF of the book, and the digital downloads.
Want to make Freedom of Information Act requests easier? Berkeley's Center for Investigative Reporting is developing the FOIA Machine, an online platform designed to streamline the FOIA request process and create a community of journalists working through the process themselves. This is really a back-it-because-you-believe-in-it project, but there are various rewards at various levels.
We're big fans of Jed Henry's Ukiyo-e Heroes illustration series, which portrays video game characters in the style of Japanese woodblocks. Now he's making a Ukiyo-e inspired fighting game for iOS, Android, PC, and Mac. For a $10 pledge, backers receive a digital artbook plus a download of the game, but personally, I'm eyeing the t-shirts at the $30 pledge level.