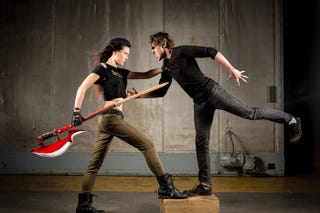 One team of fan filmmakers is looking to continue the original Star Trek series' five-year mission, while another team wants to bring Joss Whedon's Fray to vampire-slaying life. Plus, the creator of Billy & Mandy has a new post-apocalyptic project in the works, and an upcoming anthology promises to bring military science fiction into the 21st century.
Photo from Lurk by Jason Boulanger.
Andrew Liptak and Jaym Gates edit this new anthology that collects military science fiction stories written for the modern age, taking current perspectives on war and imagining how the military might look in the future:
War Stories isn't an anthology of bug hunts and unabashed jingoism. It's a look at the people ordered into impossible situations, asked to do the unthinkable, and those unable to escape from hell. It's stories of courage under fire, and about the difficulties in making decisions that we normally would never make. It's about what happens when the shooting stops, and before any trigger is ever pulled.
Contributors include Joe Haldeman, Mike Sizemore, Ken Liu, T.C. McCarthy, and more. For a $15 pledge, backers can nab an ebook of the anthology or the paperback edition for a $25 pledge.
Star Trek Continues is an impressive, lovingly fan-made web series that aims to capture the look and feel of the original series. In the first episode, "Pilgrim of Eternity," actor Michael Forest reprised his role as Apollo, and the team is currently raising funds for three most episodes to continue Star Trek's five-year mission. They are offering various digital goodies at various levels, including script PDFs, wallpapers, and downloads of the series poster.