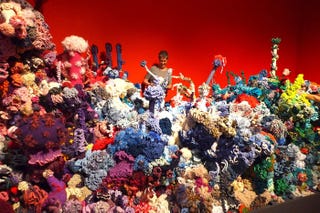 There are a couple of post-apocalyptic projects looking for a little crowdfunding: a star-studded comedy film and a comic starring a badass version of Charlie Brown. Plus, Aardman Animation is bringing back one of their original characters and a gorgeous environmental art project is getting a coffee table book.
Top image from Crochet Coral Reef.
Jason Yungbluth's Weapon Brown reinterprets classic newspaper comic character in a bizarre post-apocalyptic environment. The cast is led by the cybernetically enhanced Chuck, who mourns the death of his beloved red-haired girl as he battles alongside Snoop across the wasteland. Yungbluth is printing the first volume of the two-part Weapon Brown comic, and he's offering a digital version of the book for a $10 pledge and a print copy for a $25 pledge.
From the people who brought us the robot edition of Huckleberry Finn comes an apocalyptic comedy featuring Barry Bostwick, Armin Shimerman, Harry Groener, and Legend of Korra's Janet Varney: