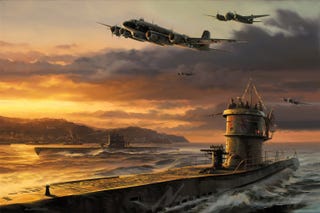 At the dawn of the Second World War, the island nation of Britain faced the grim possibility that it might be starved into defeat owing to a German naval blockade. To assess this threat, a group of Cambridge dieticians took part in a secret experiment to see just how malnourished they could become.
Of all the threats facing Britain during World War II, it was the U-boat peril that frightened Winston Churchill the most.
Indeed, the German blockade in the Atlantic was no joke. Britain, on account of its geographical situation, required more than a million tons of imported material each week in order to survive and fight the Germans.
Churchill, ever mindful of their predicament as an island nation, later wrote: "The Battle of the Atlantic was the dominating factor all through the war. Never for one moment could we forget that everything happening elsewhere, on land, at sea or in the air depended ultimately on its outcome." It was a desperate time that called for desperate measures.