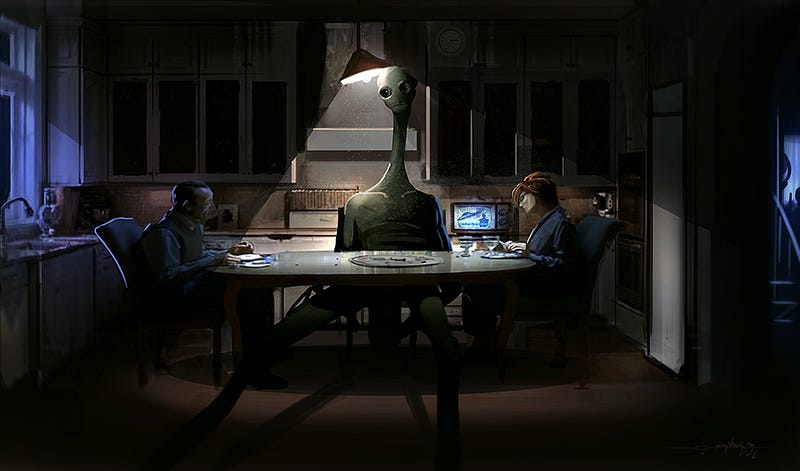 Guess who's coming to dinner? Actually, don't guess; tell us. Write a story based on this picture of an alien apparently breaking bread with a human couple at the dinner table.
This piece, titled "The Meal," was created by concept artist Geoffrey Ernault. As always, we invite you to post your own story inspired by this picture in the comments.
Update: I tried to get as many stories from the comments in here as possible, but the system won't let me save all of them in the post. Sorry if I didn't post your story this week, and everyone be sure to check out the additional stories in the comments!
Here's my story:
The first thing Sam noticed when he sat down at the kitchen table was how much smaller it was. Everything was smaller now—it was the hazard of growing six feet overnight—but somehow seeing the table so low beneath his head was extraordinarily disorienting. It was worse than when he had bent down to hug his mother and shake his father's stiff hand.

His mother shoveled a steaming square of lasagna onto his plate before he could protest. They had warned him about this at the Academy, that it would be hard to avoid certain foods. He'd hoped he could stick to greens throughout dinner, but now he'd have to take a spoonful of ipecac when he got back to base. He took a bite and chewed it thoroughly, exploring the texture in his new mouth.

"So," his father said, leaning back in his chair. "This is you now."

Sam nodded and his head clipped the edge of the hanging lamp, sending the light swaying. He lifted a three-fingered hand and stopped it. "These bodies are much better suited for long-term space travel. You should see us all up there together in zero-grav. It's like a ballet—"

His father interrupted. "And what about your real body?"

Sam felt an uncomfortable heat in his cheeks, although he'd been warned about this, too. "This is my real body."

"You had such pretty eyes," his mother said, her hand cupped over a glass of wine. "Green eyes."

"Now he's green all over," his father muttered.

Sam stared at his father, suddenly conscious of the blinking of his own huge, black eyes. "You knew when I enrolled it was for an extra-solar mission. One-way trip. Human exploration of the cosmos."

"Human," his father snorted. "Call it what you want, but you're not human. Not looking like that, you're not."

His mother raised her head suddenly, as if remembering something she had long forgotten. "What about children?"

Sam turned toward her slowly. "What about children?"

"Can you? Can you still have children."

Sam sighed. "Mom, I was never going to—"

"Answer your mother."

Sam stared down at his lasagna for a moment. He tasted it more profoundly than he ever had before, could detect the individual chemical compounds, knew remarkable things about the tomatoes in the sauce and the cows behind the cheese from a single bite. But it would never taste the same as it had before. "I will live a very long time," he told them. "Centuries, maybe even a thousand years. I'll see things that no person has ever seen before in ways no person has before. I will set my feet down on distant worlds. I will contribute to the sum of human knowledge. But these bodies are non-sexual. I will never have children." Sam closed his eyes and his ears, trying to shut out the sound of his mother's sobs.
Corpore Metal's story:
It was dinner at the house of old, old friends. I figured they should be the first to know what I had done. We had talked about it many times down through the decades. Anyway, by this point, all my relations were dead so, my oldest friends were first.

When Annie opened the door for me, I could see her face twitching but, she got it under control and invited me into the dining room.

Drew was in the kitchen throwing a last few things into a sauce pot before hurrying out to us with hot pads and pans full of food. He shoveled food out for Annie and himself, almost started shoveling food out for me but, then caught himself and bade us to sit as he returned to the kitchen for the last of it.

"No more food for you, eh, Jeffries?" Annie asked as we sat with her usual ploy of addressing me by my last name. In decades past, it was her habit of friendly joshing. Now, it had an edge.

I chuckled and mumbled, "No. Not anymore."

"But from time to time, for proper maintenance, you do have to replace some fluids, right?" Drew interjected, seating himself and shoveling the last touches on his and Annie's plates. The more things got tense, the more he busied himself. It was his way of avoiding something.

"Yeah, but it's a bit like drinking water or urinating, not at all memorable. Something a lot like thirst or the urge to void comes over me and then I go off to take care of it."

We all sat a bit in silence as they speared carrots and smeared vindaloo over their rice. Staring at the food, I felt nothing, no salivation, no growling in my nonexistent stomach, no urge to inhale the aroma. There was a very mild feeling of revulsion that I couldn't put my finger on. I suspected that this feeling was part of what my doctor called "motivational realignment." Which was good, I guess. I had started to miss pizza.

"So do you feel actual hunger at all?" Drew was always an extrovert and wasn't comfortable with silences from anyone or silences in general.

"No, I'm solar now with a betavoltaic emergency cell. If my power runs dangerously low I feel the urge to sleep and plug myself in."

"You finally did it, didn't you? Just like you always said you'd do. You finally made your only dream come true," Annie said, adding with plain bitterness, "You threw away all the others for it."

"Hey, Ann, stop it. We all knew this was coming. We knew it decades ago when Mike had that conversation with Steve back in '87—"

But I angrily interrupted him, "No! Ann deserves an answer!" I turned to her, "Yeah, I did it. I did it for the exact same reasons I said then. I stopped talking about it because it made you both uncomfortable. It was the rant you both got sick of. But you both knew it never went away. It lurked behind almost everything I did or said over the last 65 years. And now here I am. I've cast away the meat and became the robot I wanted to be since I was ten!"

Ann burst into tears, "And you never married, never had a girlfriend, never enjoyed life—"

"I've know plenty of women who I love and whose friendship I am always profoundly grateful for. You are one. Stop trying to bring my sex life into this. It's no more important than the food I'm not eating with you now."

Ann clattered her fork to her plate and shoved herself up from the table and stomped out of the room and up the stairs. This was followed by a slam of the bedroom door.

Drew turned to look at me and his eyes began to blink rapidly, he turned away. "You'd better go. Just show yourself out." He got up and began to collect the plates, pointedly ignoring me. The ice was obvious.

So I left.