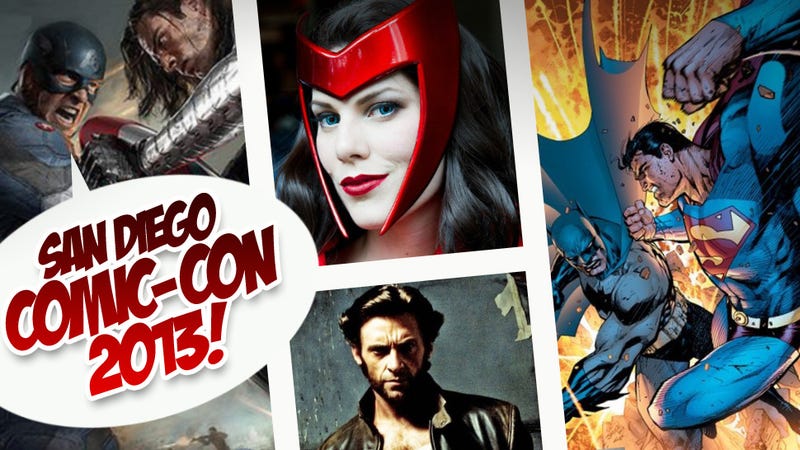 Going to San Diego Comic-Con is like stepping into an alternate universe, where superheroes and monsters are everywhere. We witnessed enough brilliance in five days to keep us psyched for the next few months. Here's our complete guide to the shiniest things we saw at Comic-Con 2013.
Top image: Jesus Diaz/Kinja.com

MOVIES
We saw so many incredible glimpses of upcoming movies at Comic-Con. Including:
Superheroes. Once again, Marvel's cinematic universe dominated Comic-Con, culminating with Joss Whedon unveiling the title of the Avengers sequel. Plus Joss told us why his Ultron saga won't include Ultron's creator in the comics, Hank Pym. Our first glimpse of Guardians of the Galaxy was like Star Wars on crack, not to mention Karen Gillan unveiling her bald head. And we saw a ton of Guardians costumes and props. Tom Hiddleston recruited us as his army, in character as Loki.
We saw footage from Captain America: The Winter Soldier, and star Sebastian Stan explained Bucky's new identity. But don't ask Vin Diesel if he's playing The Vision.
Speaking of Marvel heroes, the first X-Men: Days of Future Past footage was actually super-emotional, and the movie gathered all of the old and new X-Men casts. And Bryan Singer told us how this movie changes everything. Meanwhile, Andrew Garfield drove the crowd nuts by appearing in character as Spider-Man, and we learned that Electro is way more powerful than the wall-crawler.
Image via Associated Press.
But not to be outdone, DC revealed the Man of Steel sequel will feature Batman fighting Superman, in the most dramatic way possible. And Henry Cavill and David S. Goyer told us what to expect from Superman's second outing. Not to mention, we saw Batman in action, in The Lego Movie.