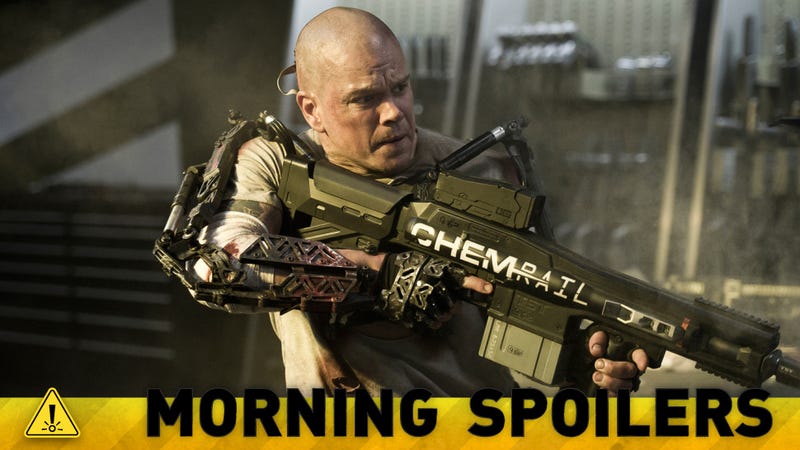 Did Stan Lee just confirm a Black Panther movie? Del Toro says Crimson Peak will be "kinky." Ron Perlman says Hellboy 3 could kill him. Adam Canto might be Sunspot in X-Men: Days of Future Past. The Walking Dead reveals its season premier title and a mysterious S.H.I.E.L.D. billboard appears. Spoilers ahead!
Justice League
It never seemed likely that Christian Bale would play Batman in any possible Justice League movie, but rumors will always swirl. Bale himself has addressed the speculation and confirmed he will not be returning as Batman. Bale says:
"We were incredibly fortunate to get to make three [Batman films]. That's enough. Let's not get greedy. Chris [Nolan] always said he wanted to make it one film at a time. And we ended up sitting there looking at each other, saying 'We're about to make the third.' We never really knew if we were going to get to be there, but if that was how it was going to be, this was where it should end as well."
He elaborates he has no knowledge about the Justice League movie:
"I have no information, no knowledge about anything. I've literally not had a conversation with a living soul. I understand that they may be making a Justice League movie, that's it."
As for someone else being Batman:
"It's a torch that should be handed from one actor to another. So I enjoy looking forward to what somebody else will come up with."
---
The Black Panther
Stan Lee might have just confirmed The Black Panther movie at Wizard World Comic Con in New York City. Here is the quote:
"The people at Marvel are spending hours trying to think 'What'll we do next?' And there's a damn good chance that they will think just what you mentioned because it would be a great idea, and little by little, everything you want to see will come along because they're just like you. They're fans of the stories and are trying to think, 'What will the fans like to see next? What would we like to see next?' So they're working on Ant-Man, working on Doctor Strange; they're working on Guardians of the Galaxy; they're working on God knows what. Did I say the Black Panther also? They're the ones I know about."
[IGN]
---
Elysium
After seeing District 9, Matt Damon really wanted to work with Neil Blomkap, and he had wanted to do a quality science fiction movie for some time. Damon says Elysium was an easy decision:
"The big appeal was Neill. I saw 'District 9' and flipped out like everybody else. I had my eye on him as somebody that I wanted to work with and then the next thing he was doing suddenly came my way, so it was a really easy decision for me."
And in another interview he said:
"I love scifi but there aren't many scifi movies that have come out while I've been around that have been great. There was 'The Matrix', obviously, but I never got a shot at that. They're the funnest movies as a moviegoer to see, so I'd been looking for one but just nothing had come around."
Here is the new TV Spot for the film.
---
Transcendence
Belen, a small New Mexico town, is being transformed for the shooting of the Johnny Depp and Morgan Freeman-starring Transcendence. A miniature abandoned cityscape has been built over a couple blocks of the downtown by putting façades over existing buildings and construction in empty lots. The streets will also be filled with sand. Shooting will begin Jul 8 and continue for ten days. [ABQJoural.com]
---
The Wolverine
Click here to see several new images of characters from The Wolverine. Bigger versions are at the link. [IGN]