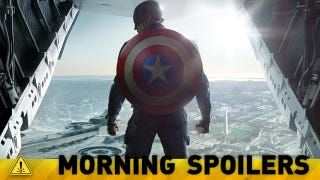 The Amazing Spider-Man 2 will definitely end by setting up one of its spin-offs. Robert Downey Jr. gives a hint about a key character in Avengers: Age of Ultron. Plus closer looks at Godzilla and Doctor Who's new sonic screwdriver. Also, new images from Jupiter Ascending, Edge of Tomorrow, and Continuum. Spoilers now!
Captain America
Variety's profile on Chris Evans has him talking a lot about his reluctance to commit to doing the Marvel movies, with the actor pretty much confirming that, once his six movies under contract are finished, he's probably done:
When Marvel approached him with the part four years ago, Evans turned it down — several times. "The problem was initially, it was a nine-movie contract. And they said, if these movies take off and do very well, and my life changes and I don't respond well, I don't have the opportunity to say, listen, I need a fucking break. That just scared me."

After testing a handful of other actors, Marvel made another attempt to woo Evans. "They called back and they tweaked the deal," he recalls. "It went from nine (films) to six. I said no again." Marvel tried once more, and that's when Evans' reps started giving him a hard time, the actor admits. "My family was even going, 'Are you sure you're making the right decisions?' It started to feel like maybe this is what I'm supposed to do."...

When will Evans finally hang up the character's shield? "That's a good question," he says. "We can do this out loud. ('Avengers 2') will shoot till August. I wouldn't be surprised if for all of 2015, we didn't do a movie. I bet by 2017, I'll be done.
That means, as we've guessed before, that Evans' six movies will likely break down to three Captain Americas and three Avengers films.
And if the nine-picture deal Evans refused sounds familiar, it's because Sebastian Stan (Bucky Barnes) recently revealed that it was what he had, leading more credence to the speculation that he'll be taking over for Evans. [Variety]